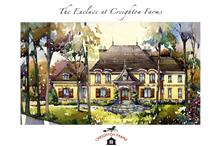 With new homes going up, new neighborhoods like The Enclave premiering, and a grand new clubhouse under construction, the vision for Creighton Farms is now crystal clear to home buyers.
Aldie, Virginia (Vocus/PRWEB) February 04, 2011
When Scott Prendergast of Apex Custom Homes set out to build a new neighborhood at Creighton Farms called The Enclave, it seemed only natural to enlist his friend and world-renowned architect Jack Arnold. The two set out to create French-inspired homes designed for today's family lifestyles with great rooms, spacious kitchens, one-of-a-kind craftsmanship and of course energy efficiency.
Prendergast reports seeing a lot of interest in The Enclave – and in Creighton Farms as a whole. With new homes going up, new neighborhoods like The Enclave premiering, and a grand new clubhouse under construction, the vision for Creighton Farms is now crystal clear to home buyers.
'Over the last several years, the general public and those interested in Creighton Farms have anxiously awaited the new Clubhouse," said Prendergast, Developer and Owner of Apex. "Now that the construction is well underway and a completion date has been set, the excitement level and the energy of the community have taken a new direction. Creighton Farms is alive and buzzing and by our estimates we anticipate up to 15 new families this year – with double that many expected to be in residence by the end of 2012!"
The Enclave is one of four extraordinary neighborhoods at Creighton Farms. Prospective home buyers can view The Enclave's recently completed model home The Villandry, a 6,900 sq. ft. home now available for sale, along with several other designs, each nestled on 3+acres of wooded or open lots. These Enclaves homes have much to commend them in addition to the quality of their construction and design. First, they offer a six-month build-out plan – a must for busy families who are considering moves in today's economy.
Second, homes at The Enclave are energy efficient from the word go. Buyers are looking for new ways to build energy efficient homes, and The Enclave homes deliver. By cutting down the home's energy use through the use of smart building design, energy-efficient appliances, geo-thermal heating and cooling and solar-ready systems, homeowners can save thousands in annual energy costs. For solar power in particular, huge advances in energy-efficient building materials now allow consumers the opportunity to create energy-efficient solar systems without sacrificing aesthetics. After community architectural review board approval to ensure appropriate aesthetic placement, The Enclave custom homes can be designed and fitted for solar energy– whether using solar-ready tile roofs or panels.
"If solar is designed into the home when it is built, odds are pretty good that solar energy will be added later," said Prendergast. "Our homes are what we call 'Solar-Ready' and built with the highest quality materials. Each home is ready to be fitted for solar panels or solar shingles, a new line of shingles that have a solar aspect. The shingles provide homeowners with energy derived from the sun, just as the tradional panels do, but blend naturally with the roof's design."
Creighton Farms will host an exclusive Open House at The Enclave and an opportunity to meet the builder, Scott Prendergast, on Saturday, February 12th, from 1:00 PM – 4:00 PM and Sunday, February 13th 1:00 PM – 4:00 PM. For more information please contact Vanessa Massaro, Creighton Farm's Director of Sales at vmassaro(at)creightonfarms(dot)com or call (703) 957-4800.
About Creighton Farms
Creighton Farms is an exclusive residential golf community located in Virginia's prestigious Loudoun County. Situated just 30 miles west of Washington, D.C., Creighton Farms occupies almost a thousand acres of gently rolling topography that typifies Virginia's historic horse country. This luxurious single-family residential community combines the area's rich history with the elegance of world-class amenities and custom-crafted estate and villa residences. The centerpiece of this spectacular gated community is the Jack Nicklaus Signature Golf Course, named one of the 'Best New Courses in 2008' by Golf Digest, Golf Magazine and Travel + Leisure Golf – one of only two private courses in the world to be recognized by all three publications that year.
For more information please visit our website at http://www.creightonfarms.com or to schedule an interview, please contact Nancy Powers, Public Relations Director, npowers(at)southworthdeveloment(dot)com.
Obtain the property report or its equivalent, required by Federal and State law and read it before signing anything. No Federal or State agency has judged the merits or value, if any, of this property. Access to and use of recreational amenities are not included in the purchase of real estate and require separate club membership which is subject to application, approval, and payment of applicable fees and dues. This is not an offer to sell property to, or a solicitation of offers from, residents of NY, NJ, CT, OR or any other state that requires prior registration of real estate.
Contact: Nancy Powers
Office: 508.548.4969
Mobile: 617.584.4045
Email: npowers(at)southworthdevelopment(dot)com
###