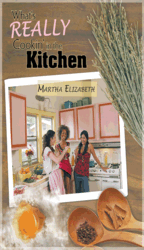 (Vocus/PRWEB) February 07, 2011
In 1911, courtship was much different than what we've become accustomed to today. Women's rights, the civil rights movement, the invention of the birth control pill – all of these things revolutionized the way men and women became and stayed romantically involved. In the past decade, the internet has had an undeniable impact, with recent statistics showing that one in five relationships today begin online. Here to share the hilarious, candid, true stories of her lifelong search for Mr. Right is Martha Elizabeth with her new nonfiction, What's REALLY Cookin' in the Kitchen (published by Trafford Publishing).
When Elizabeth suffered a back injury that left her bedridden and facing mounting medical bills, she decided to put pen to paper and recount the events of her life, originally intending to focus on her love of cooking and how her family influenced that passion over the years. What emerged was more than a book of recipes – once Elizabeth started really thinking and writing about her life, she couldn't deny the entertaining, one-of-a-kind adventures she had while navigating the dating scene.
Throwing in favorite family recipes along the way, Elizabeth gives the real flavor to her book with alternately romantic, embarrassing and sexually explicit anecdotes about the trials and tribulations of looking for her Prince Charming. At the end of the book, she shares a selection of mouth-watering recipes for the cakes she baked and food she cooked for different boyfriends along the way.
Elizabeth's conversational style will leave readers laughing and nodding their heads in agreement as they follow her entertaining adventures. Reminiscent of "Sex and the City" with its frank, honest tone, What's REALLY Cookin' in the Kitchen will appeal to any woman who's navigated the tumultuous, unpredictable world of online dating and give them ideas for tasty meals and sweets.
About the Author
Martha Elizabeth was a nurse for 31 years and has been told she's a wonderful cook and baker. She is still looking for her Mr. Right. She bakes cakes and makes fudge that sell locally and on eBay® under "muffymartha." What's REALLY Cookin' in the Kitchen is her first published book. For more information, please visit http://www.grandmasgarage.org.
Trafford Publishing was the first company in the world to offer an "on-demand publishing service," and has led the independent publishing revolution since its establishment in 1995. For more information, visit http://www.trafford.com.
###