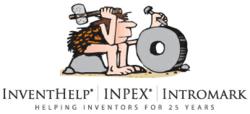 Pittsburgh, PA (PRWEB) February 04, 2011
InventHelp®, America's largest inventor service company, announces that one of its clients, an inventor from California, has designed a wheeled cart that would carry tools and materials for individuals working in crawl spaces. This invention is patented.
The "Caddy Rover" would feature a bendable flashlight, which would make working in crawl spaces easier. The compact design would allow for easy navigation over uneven terrain. Ideal for use by construction workers, plumbers and electricians, the device frees a user's hands from holding tools and flashlights.
The Caddy Rover would consist of a rectangular, plastic cart with four large, rubber wheels, a flashlight, and three handles. The wheels would be positioned beneath the cart with two wheels on either side. They would have a comparatively large size, which would allow them to navigate the uneven terrain of a crawl space. A flashlight would be positioned at the front of the cart and mounted on a bendable stem so that the light could be directed wherever the user needs it. This design would enable the user to work without holding the flashlight. Two handles would be positioned on top of the cart along the long edges. These handles would be collapsible so that the unit could fit into the low areas of a crawl space. These handles may be used while moving the cart in a crawl space or to carry a cart around the work site. Another handle would be positioned on the front of the cart in the center of the unit. The handle would feature a retractable cord so that the user could pull the cart along when working in a crawl space. The Caddy Rover could be producible in a variety of sizes and colors.
InventHelp® is attempting to submit the invention to companies for review. If substantial interest is expressed, the company will attempt to negotiate for a sale or royalties for the inventor. For more information, telephone Dept. 06-FRA-4030 at (800) 851-6030.
# # #