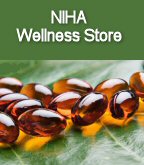 Detox cannot start until you remove the major sources.
Washington, DC (Vocus/PRWEB) February 07, 2011
National Integrative Health Associates announced today the addition of detoxification health products to their online natural health product store. Recognizing the need for making available detoxification products used in their practice, NIHA has organized a category focused on helping provide some of the components of successful detoxification.
Natural detoxification cleanses the systems of the body, ridding it of toxins. This enhances your immune mechanism and the reparative, anti-aging faculties of your body. Patients who wish a medically supervised program of detoxification may benefit from the guidance of NIHA physicians or practitioners trained to manage this process. Dr. Mark McClure, DDS, says "During the long term toxification of the body by heavy metals, toxic chemicals and eventually the chronic infections, the bodily information system becomes programmed to survive in the best way it can, with the unfavorable environment and toxic milieu that is thrust upon it." Dr. McClure continues, "Removing the sources is a process of understanding (education) what is involved and taking action. Detox cannot start until you remove the major sources. Addressing your diet and life-style, receiving health coaching and having a healthy mouth all contribute to a healthier life. At NIHA we offer all three components."
The NIHA Wellness store Detoxification section will offer several different types of specialized body cleansing and binding agents such as Chlorella, freeze dried garlic, Cilantro, fish oils, Clear Way Cofactors, Vitamin C/R Lipoic Therasomal, EDTA/R-Lipoic Therasomal, Glutithione Therasomal, IMD and detox tea. Additionally the detoxification section offers cross reference by brand and common body use.
About the NIHA Wellness Store
The Wellness Store complements the NIHA integrative medicine and dental center by providing timely delivery of natural health products online and at its headquarters in Washington D.C. The Wellness Store can be accessed at http://products.nihadc.com or http://www.nihawellnessstore.com.
About National Integrated Health Associates
National Integrated Health Associates, NIHA, is a leading integrative medical and dental center. Integrative medical doctors, biological dentists, naturopaths and health practitioners blend traditional western medicine and complementary and alternative medicine therapies in order to maximize the healing potential of the patient. The integrative medicine model treats the whole person (body, mind, and spirit) and considers factors such as nutrition, lifestyle, dental issues and stress to be important in the management of overall health.
Located in Washington, D.C., NIHA was founded in 1995 as one of the first integrative medical and dental centers of its kind and serves patients in the Washington, D.C., Maryland and Virginia metropolitan area and throughout the East Coast. NIHA is located directly across the street from the Red Line of the Friendship Heights Metro station, and has convenient underground parking.
# # #