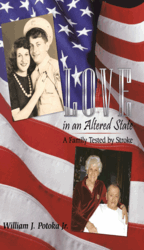 Mt. Pleasant, Pa. (Vocus/PRWEB) February 07, 2011
In his book Love in an Altered State: A Family Tested by Stroke (published by AuthorHouse), William J. Potoka Jr. provides an intriguing glimpse into the remarkable life of his father, Bill, before he suffered from a debilitating cerebral stroke. Potoka travels back through time to portray many aspects of Bill's life – from his roots in a western Pennsylvania coal patch town to serving as a paratrooper during World War II and later becoming a loving husband and father and popular local politician. Love in an Altered State was written by Potoka as a way to share his father's extraordinary life story with his great-grandchildren so that they too would one day be able to know and honor his many accomplishments.
The story begins by describing Bill's early home life and how he accepted the duty of quitting high school to work in the coal mines to support his family through the Great Depression. The book also largely discusses the love story between Bill and his wife, Flo, including their romantic courtship and early years together.
It was a different time unlike today where one can be anywhere in the world in hours, and everything and everyone moves at an ultra fast pace. Flo and Bill had few choices as to where they would go on a date, and all the choices they had were within a few miles of their homes. It was a time when the person you were with was more important than where the two of you would go. Maybe it was a time that since people had so little, a relationship was more sincere and enduring. It was a time that just sitting under a shade tree and talking was enough. For Bill and Flo, the relationship was now and forever.
From humble beginnings, to a returning war veteran aspiring to achieve the American Dream, to years of community service and success in business, Love in an Altered State is a story that exemplifies the power of faith, hope and love. This tale about hard work, love and separation, and patriotism is a story for future generations to celebrate.
About the Author
William J. Potoka Jr. grew up in and around the small community of Mount Pleasant, Pa. He spent his early years living in the coal patch towns of Standard and Shaft, part of the H. C. Frick coal empire in western Pennsylvania. Potoka attended West Virginia University before serving in the United States Marine Corps. He eventually returned to join his father in the heavy towing and vehicle service business. Together they ran the family business for 54 years. Potoka and his wife still reside in Mount Pleasant where they raised three sons and have four grandchildren.
For more information, please visit potokabooks.com.
AuthorHouse is the leading provider of self- publishing, marketing, and bookselling services for authors around the globe. For more information, visit http://www.authorhouse.com.
# # #