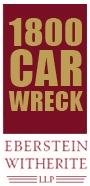 Drinking and driving is a dangerous and costly mistake say the Dallas Injury Lawyers at 1800-Car-Wreck
Dallas, TX (Vocus/PRWEB) February 03, 2011
(Dallas Injury Accident Lawyer News) The Super Bowl festivities have already begun taking place across the great state of Texas as people anticipate Sunday's Super Bowl XLV say the Dallas Injury Lawyers at 1800-Car-Wreck. With the Super Bowl in Arlington, this year's Dallas area traffic and accidents are anticipated to be worse than ever throughout the entire Super Bowl weekend.
The increased amount of traffic on the roads combined with recent weather conditions will make travels more difficult. Adding to the risk for Dallas area car accidents will be drivers who are under the influence of alcohol. The 1800-Car-Wreck team of Dallas Injury Attorneys reports that statistically on Super Bowl Sunday more people will drink, drive, and crash that on any other Sunday in January and February combined.
As people leave house parties, corporate events, local sports bars, and of course the Cowboy Stadium, it will be imperative for drivers to be on alert aware of their surroundings as the number of people on the roads with alcohol in their systems will be at a higher level than normal. Dallas Car Accident Lawyers are urging those who choose to drink at Super Bowl festivities to plan ahead for post-party transportation. The use of a designated driver or cab is highly recommended.
In Texas, driving with a blood alcohol level (BAL) of .08% or above constitutes the crime of driving while intoxicated or DWI reports the Dallas Car Accident Lawyers. This leaves no room for excessive drinking. Most individuals can drink approximately three to five drinks an hour and still get behind the wheel of a vehicle without going over the legal blood alcohol limit. However, what most people do not know is that blood alcohol content will continue to increase for up to three hours after a final drink is consumed. Many people also are not aware of what the standard volume of a drink actually is say 1800-Car-Wreck's Dallas Injury Attorneys. Drink serving sizes can be double what an actual serving size is. Most people are shocked to learn that a standard drink is defined as 12 ounces of beer, 5 ounces of wine or 1.5 ounces of hard liquor.
This Super Bowl weekend have fun without being irresponsible. Drinking and deciding to drive is a dangerous and costly mistake say the Dallas Injury Lawyers. If involved in a Dallas car accident this Super Bowl weekend, regardless of if alcohol was a factor, contact the Dallas Injury Attorneys at 1800-Car-Wreck for a case evaluation by visiting http://www.1800-Car-Wreck.com.
###