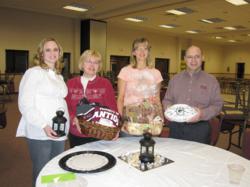 Wausau, Wisconsin (Vocus/PRWEB) February 04, 2011
Join us for Lighting the Path for Hope on February 10, 2011 at Peace Lutheran Church in Antigo, Wisconsin. This special event includes a luscious dessert sampling, a variety of local musical talent, and a theme-basket silent auction. All proceeds benefit the funding of the proposed Hope Pregnancy Resource Center in Antigo, which will serve Langlade County and the surrounding communities. Doors open at 5:30 p.m. with the silent auction beginning at 6:00 and program beginning at 6:30. Mark Bystrom, on-air talent from WGNV 88.5 Christian Family Radio, is the emcee of the event. Lisa's Sweet Shoppe Bakery and Catering of Wittenberg will provide the desserts.
Tickets are available at Natural Living, Antigo, PevlaZ Salon, Antigo, or from committee members. Deadline to purchase tickets is February 8. Advance tickets only.
During the past eight years, support from the community has enabled Hope Pregnancy Resource Center of Wausau to serve nearly 1,200 clients, free of charge, from Marathon, Lincoln and Langlade counties in Wisconsin, providing a firm foundation and solution to personal crises of young men and women. We are moving forward boldly to continue our mission of reaching out to the community of Antigo.
###