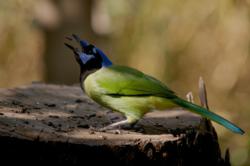 It's an amazing catch!
Aurora, IL (Vocus/PRWEB) February 04, 2011
At http://www.lathammediaservices.com, Tim and Pam Latham, photographers were able to capture some interesting bird behavioral photos in the last few weeks. Visit our site and see some of the 250 plus photos that have been recently posted.
The Southern Texas area called the Rio Grande, provides some of the most diverse species of birds in the country. Some say even in the world. That might be going a little too far but it is great birding. As we photo document, we also take notes, some of which we post on our blog site at http://lathammediaservicesblog.com. This site is updated on a weekly basis.
The Green Jay pictured in this news release was found at the Santa Ana National Wildlife Refuge at the visitor center. These are perching birds, colorful, very active, found in woody areas and a limited range in the US. Just go north a few miles and you'll never see them. They keep in small groups calling each other frequently. Feeding on a variety of fruit and seeds as the picture shows. It's an amazing catch.
Also, we captured a very aggressive Northern Cardinal taking a bath. We spent a few hours watching this process. It is interesting and educational. We've provided a short video for your education.
For more information on these current and future adventures, please visit us at http://www.lathammediaservices.com.
# # #