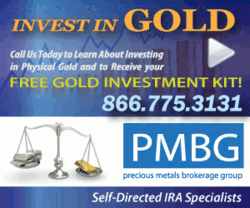 the 13 year bull market in gold is fundamentally intact
(Vocus/PRWEB) February 03, 2011
Speculators and technicians have been bearish on gold for the last two months, at least the good ones have! "We have been dead right," says PMBG Market Analyst Thomas Rosen. "As gold prices tried to push up a third time out of its congestion area and failed, creating a triple top, with the third top slightly lower than the other two, the gold market presented a nice opportunity to make some short-term profits on the sell side for once, and we over-hedged accordingly!"
It's very simple to understand, the market doesn't move in straight lines, but in patterns of waves. Usually this takes place in a series of three, and gold is on its third "leg" down to the 1310 level that should act as a key Fibonacci pivot level. This will be the area that gold reverses and goes higher. If you have been waiting for your opportunity to buy gold, silver, or any precious metal, especially physical gold coins or gold bullion, this will be the chance to load the boat and prepare for the next wave towards the $1500 level.
On a side note, gold stocks have a tendency to lead gold. They started to decline a month before gold futures broke down from $1430. Looking at their charts you can see three clear "legs" down into support areas or pivot points. They have already started moving higher adding to my long-side conviction. There is still a lot of upside for gold as an investment, and this pullback in gold is very close to being over. The Fibonacci 13 year bull market in gold is fundamentally intact, and we continue to advise buying gold such as gold coins on every dip, as we are currently removing are short hedge.
Precious Metals Brokerage Group http://www.pmbg.net (PMBG) provides physical delivery of Gold, Silver, Platinum, and Palladium. Our Retirement Account Department also provides Gold 401k and Gold IRA services. Get your Free Gold Investment Kit or view Live Precious Metals Prices. Call us toll free at (866) 775-3131 to speak with an account executive.
###