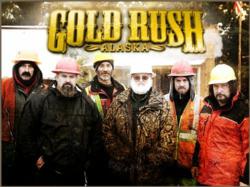 You wonder if the American dream is still alive, and with us it still is. I think we have tapped into that and guys can use that with their walk of life
Fairfax, VA (Vocus/PRWEB) February 09, 2011
Jack Hoffman, and his son, Todd Hoffman, recently spoke with NewsWatch through a Satellite Media Tour about the upcoming episodes of their hit Discovery Channel show, Gold Rush: Alaska. The series follows a group of 6 inexperienced gold miners from Oregon who drop everything and head out to Alaska with the aim to strike it rich in the gold mining industry. The show is the #1 new original show on cable and airs Fridays at 10pm EST on the Discovery Channel. NewsWatch was able to learn some more about this hit show in speaking with Todd and Jack through the Satellite Media Tour.
Todd Hoffman decided to head to Alaska to mine for gold after the steady decline of his aviation business in Oregon and after seeing the prices of gold steadily increase. He gathered a large group of his unemployed friends and headed to Alaska to be a modern day 49'er. Todd is joined by his father, Jack Hoffman, who 25 years ago went to Alaska to mine for gold and almost lost everything. Jack is a retired military man and a pillar of his church, and he will go to any lengths to make this mining expedition in Alaska pay off, even if it takes the ultimate sacrifice.
NewsWatch asked Todd through a Satellite Media Tour why he thought the show had become so popular around the United States. "I think we have tapped into that American spirit that is inside of us. And in the last few years when you are getting beat down at work and losing your job you need something..You wonder if the American dream is still alive, and with us it still is. I think we have tapped into that and guys can use that with their walk of life." Although Todd is very optimistic, his father still remains a little cautious and warns others who might want to join them in Alaska. "We encourage them not to go up there if they are not prepared and if they have not done their research; because they can really do themselves serious damage and it can happen very suddenly."
The 2011 season is set to have extensive drama for all of the miners involved. With winter bearing down on the team, mechanical failures abound and Jack and Todd strapped for cash, tensions start to flare and the possibility of the whole mining operation being shut down begins to seem like a real possibility. "The lows are so low that we almost give up" explains Todd to NewsWatch, "But there are some wonderful highs..I guarantee you will like it".
NewsWatch is a weekly 30 minute consumer oriented television show that airs nationwide. We regularly feature top celebrities, tech products, medical breakthroughs and entertainment news on the show. The show airs in 180 markets nationwide as well as all of the top 20 broadcast markets in the country, and is the preferred choice for Satellite Media Tour and Video News Release Distribution. For more information, head to newswatchtv.com
# # #