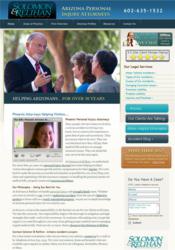 A few of the "secrets" that auto insurance companies don't often share.
Phoenix, AZ (Vocus/PRWEB) February 12, 2011
Driving in the United States is a privilege, not a right. Being a privilege, the government is able to assign certain rules, restrictions and conditions to a citizen's ability to drive on a public road. One of the main conditions to being able to drive is requiring a driver to possess automobile insurance.
While auto insurance is required for all drivers in most states, very few understand the auto insurance industry. The law firm of Solomon & Relihan has worked with insurance companies for over 30 years and knows how the industry works. Gaining insight into certain facts that insurance companies typically don't share with policyholders could help drivers understand how to effectively interact with their insurance companies and possibly even save money on auto insurance premiums.
A few of the "secrets" that auto insurance companies don't often share:

Policies can be changed anytime the policyholder wants to make a change. Drivers who find that they can get a policy at a better price, can switch to that policy. If insurance was prepaid for the period, then policyholders are prorated back the money paid.
Shopping around for a policy often saves drivers money. Most people shop around and compare prices for most major purchases, so why not auto insurance? A number of websites exist that will help drivers find the best priced policy for their needs.
Prepaying for an auto insurance policy over the Internet can help the policyholder save money. Many insurance companies offer discounts on policies that are prepaid all at once; insurance companies generally charge more for a policy when paid in installments. Additionally, many insurance companies will provide further discounts when policyholders go "paperless" and opt only to receive insurance notices via email or online.
Credit ratings matter. Many insurance companies factor a driver's credit rating into an insurance quote. A good credit rating is an indication of a driver who is unlikely to be involved in a motor vehicle accident, so insurance premiums are typically lower for those with good credit.
An accident will raise a policyholder's premiums drastically. On average, insurers raise premiums 40 percent following a car crash. Car accidents can cost drivers more than they think.
If a driver's car is totaled following an accident, and a new car is purchased as a replacement, the insurance company may be responsible for footing the sales tax portion of the bill. Half of the states require that if a policyholder purchases a new car after the insurance company totals the previous one, the insurance company must cover the cost of sales tax on the new purchase. Arizona is one of those states.
Many policies do not cover anyone who drivers loan their cars to, but are not explicitly listed on the policy. Unless the policy has a rider to cover those who borrow the vehicle, or unless other drivers are explicitly named in the policy, the insurance company may not cover additional drivers should an accident occur.
Challenges of Dealing with Insurance Companies
Dealing with insurance companies can often be challenging, especially after an accident. Drivers having problems with their auto insurance company, may find that an experienced car accident attorney can help resolve their claim. Policyholders have the right to representation when dealing with insurance companies, so speak with an attorney before settling with an auto insurance adjustor.
# # #