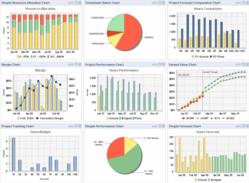 Sterling, VA (Vocus/PRWEB) February 08, 2011
In a move to increase capacity and upgrade its technology, Unanet Technologies, a provider of automation solutions for project-based companies, has expanded its Software as a Service offering to run in the Equinix Internet Exchange facilities located in Loudoun County, Virginia.
Software as a Service is also commonly known as On Demand software or "cloud computing". It is of increasing interest to more and more businesses of all sizes as they look to support their information technology needs in a scalable way. Cloud computing offers the benefits of: incremental cost rather than upfront license fees; ability to increase system capacity more easily; higher availability and remote access; and allows customers IT staff to focus on higher priority areas rather than just keeping systems operational.
Equinix's campus is home to the largest aggregation of telecommunications providers in North America. 80% of Internet traffic in the United States runs through Equinix's Ashburn campus. The Equinix infrastructure enables connectivity at speeds up to multiples of 10Gbps.
In addition to expansion to the Equinix hosting environment, Unanet's On Demand platform is also undergoing the prestigious SAS-70 Type II Certification. The certification signifies the facility's operational controls and security procedures have been rigorously reviewed by an independent certified public accounting firm, and ensures the controls employed have been suitably designed, tested and are operating at maximum efficiency.
Furthermore, to proactively ensure Unanet software meets customer's information security and integrity needs, Unanet is working with industry experts in information assurance to validate best practices in Unanet software development.
Fran Craig, Unanet Founder and CEO commented "Expanding Unanet's infrastructure into multiple datacenters provides both additional capacity and redundancy to ensure the highest level of availability for our customers. We are investing in platforms, processes and best practices to deliver best-in-class reliability and security."
Unanet provides superior Services Automation software which maximizes staff utilization, reduces administrative costs by 90%, improves invoicing by 10X, and supports forward decision-making for improved profitability. Unanet's more than 750 customers include government contractors, consulting/services organizations, internal IT (Information Technology), and high-technology product companies. Unanet's suite includes resource management, opportunity/project management, timesheets, expense reports and collaboration with real time information and analytics, easy to use interfaces, and outstanding support. Unanet is available either as an Enterprise license (self-hosted software), or the On Demand License (hosted Software as a Service (SaaS)).
# # #