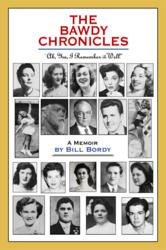 Sarasota, FL (Vocus/PRWEB) February 04, 2011
The Bawdy Chronicles: "Ah, yes, I remember it well.", a new book by Bill Bordy, has been released by RoseDog Books.
The Bordy Chronicles is a memoir by Bill Bordy about his German Mother, Hungarian Father, and his eight siblings. It is a cross between I Remember Mama and Portrait of the Artist as a Young Man, with a dash of Candide thrown in for good measure.
The memoir starts with the author, at the age of three, flying through the air from a second story porch, landing in his mother's clothes basket and ends with his journey to Hollywood to seek fame and fortune. He tells the story of how his Austro-Hungarian parents met and married in 1912 giving birth to nine very colorful, unusual and diverse children.
One should not get too complacent reading this autobiographical novel, because what you expect will happen, doesn't. Prepare to be captivated and surprised at the quixotic adventures of this boy who grows up, despite his many distracting encounters.
Bill Bordy was born several blocks from the smoky Steel Mills of Homestead, Pennsylvania, in 1930. He graduated Brentwood High School, attended the Ringling School of Art in Sarasota, Florida, and the Art Institute of Pittsburgh. He graduated Emerson College in Boston and studied at the Sorbonne in Paris, France.
In Hollywood, Bordy founded and published the Drama-Logue, a weekly theatrical Trade Publication for actors, entertainers, and behind-the-scenes people.
He emceed the Annual Drama-Logue Award's Show for twenty years at the Pasadena Playhouse and The Variety Arts Center in Los Angeles. The Award Ceremonies honored performers, writers, directors, producers, tech people, all those who worked in the theatre from San Francisco to San Diego.
In 1998, he sold his newspaper to Billboard Publications, which absorbed it into its Back Stage Weekly.
In his youth, he emceed burlesque shows in West Hollywood, Florida and "pitched" on the Boardwalk in Atlantic City. He has written, produced, directed and/or performed in motion pictures, television, and stage productions. While in the United States Marine Corps, during the Korean Conflict, he wrote, co-produced and staged "Can-Can U," a musical variety show.
The Bawdy Chronicles: "Ah, yes, I remember it well." is a 232-page paperback with a retail price of $24.00. The ISBN is 978-1-4349-8241-4. It was published by RoseDog Books of Pittsburgh, Pennsylvania. For more information or to request a review copy, please visit our virtual pressroom at http://www.rosedog.com/pressroom or our online bookstore at http://www.rosedogbookstore.com.
# # #