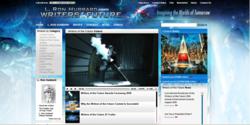 It's amazing to me that a good 60 to 70 percent of the winners go on with successful careers in writing, and several have become best-selling authors themselves
Hollywood, CA (Vocus/PRWEB) February 03, 2011
In what's been dubbed as a finalist-friendly version of "American Idol" for fledgling writers and illustrators of speculative fiction, winners for the 27th year of the L. Ron Hubbard Writers and Illustrators of the Future Contests were announced today by Joni Labaqui, the contest Director.
This year's winners (see list below) come from around the globe including Australia and South Africa, and throughout the United States.
"You could call the Writers of the Future Contest 'The American Idol for Writers' -- long before there ever was an American Idol," said New York Times best-selling author and Contest judge Kevin J. Anderson (Dune prequels, Star Wars, X-Files). "It's amazing to me that a good 60 to 70 percent of the winners go on with successful careers in writing, and several have become best-selling authors themselves."
Each year the contest awards all winners with cash prizes, free travel and accommodations, week-long professional workshop, and guaranteed publication in their best-selling annual speculative fiction anthology, L. Ron Hubbard Presents Writers and Illustrators of the Future. Grand prize winners for writing and illustration will be announced at the annual awards ceremony to be held in April.
Throughout the Contest's 27-year history, 324 writers and 240 illustrators have been recognized as winners, according to Labaqui. They've gone on to publish over 700 novels and 3,000 short stories as well as hundreds of thousands of published illustrations and sfx art for 31 major motion pictures. Former Writers of the Future Contest winners listed on the New York Times best-seller's list include Jo Beverly, Nancy Farmer, Karen Joy Fowler, Sean Williams, Dave Wolverton, Patrick Rothfuss, Lisa Smedman and Tim Myers.
"The Writers and Illustrators of the Future Contests are the most effective means for aspiring writers and artists to make their break in the publishing industry, an industry well-known for being closed to the newcomer," Labaqui said. "That's because our winners are judged by professional writers and illustrators from a pool of thousands of entries worldwide." Well-known contest judges include multiple Nebula and Hugo Award winners and finalists such as Kevin J. Anderson, Orson Scott Card, Anne McCaffrey, Larry Niven, Jerry Pournelle, Tim Powers, Robert Sawyer, Robert Silverberg, K.D. Wentworth and equally famous illustrator judges such as Cliff Nielsen, Bob Eggleton, Sergey Poyarkov, Stephen Hickman and Stephen Youll.
Inspired by best-selling author L. Ron Hubbard, the merit-based Writers of the Future Contest was initiated 27 years ago to discover and encourage talented beginning writers of science fiction and fantasy.
Annual Winners To Be Published In Volume 27
First Quarter
Writers Of The Future
First place: Brennan Harvey of Huntington Beach, California, USA
Second place: David D'Amico of Salem, Massachusetts, USA
Third Place: Ryan Harvey of Los Angeles, California, USA
Illustrators Of The Future
Erik Solem of Wark, Colorado, USA
Scott Frederick Hargrave of Marion, Indiana, USA
Vivian Fiedel of San Antonio, Texas, USA
Second Quarter
Writers Of The Future
First place: Patty Jansen of Lindfield, New South Wales, Australia
Second place: Ben Mann of Ferndale, West Australia, Australia
Third place: Van Arron Hughes of Englewood, Colorado, USA
Illustrators Of The Future
Meghan Muriel of Harker Heights, Texas, USA
Irvin Rodriguez of Bronx, New York, USA
Dustin Panzino of Ocala, Florida, USA
Third Quarter
Writers Of The Future
First place: Richard Johnson of Glen Iris, Victoria, Australia
Second place: Geir Lanesskog of Seattle, Washington, USA
Third place: Keffy R.M. Kehrli of Seattle, Washington, USA
Illustrators Of The Future
Angela Gram of New York, New York, USA
Frederick Edwards of Springfield, Virginia, USA
Nico Photos of Glendale, California, USA
Fourth Quarter
Writers Of The Future
First place: Patrick O'Sullivan of Oak Hill, Virginia, USA
Second place: Jeffrey Lyman of Airmont, New York, USA
Third place: Adam Perin of Leesburg, Virginia, USA
Illustrators Of The Future
Fred Jordan of Three Rivers, California, USA
Gregory Gunther of Midland, Michigan, USA
Ryan Downing of Gauteng, South Africa
###