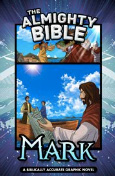 The Almighty Bible is a wonderful and natural step forward in the way we communicate the bible to kids. The message remains the same but the medium just got clear, interactive and visually exciting for today's youth.

- Chap Clark
(Vocus/PRWEB) February 04, 2011
The Gospel of Mark will bring the life of Jesus alive with incredible illustrations and concisely edited text that is focused on biblical accuracy. Starting with John the Baptist the book will take the readers all the way to the Ascension of Jesus. "The Almighty Bible books are amazing. Kids and teens love them. Partly because they are much easier to read and party because the images help make the stories much clearer." says Reverend Charles Kim from Youth Field Services, the largest support organization in the world for youth ministers.
The Almighty Bible believes that it is important that the word of God is packaged in a way that makes it competitive with the other content that is competing for our kid's attention. Studies show that kids spend a cumulative 10.5 Hours each day multitasking with various forms of media. Project Co-creator Dong Chung believes that "it is incredibly important to adapt to how young people are now receiving information. This has lead us to present the stories of the Bible in the formats and media where kids, tweens and teens are already spending the majority of their time."
To ensure the quality and accuracy of the books and mobile apps, The Almighty Bible has set up a blue ribbon advisory board. Chap Clark - Vice Provost at Fuller Seminary and founder of ParenTeen and a member of the advisory board says "The Almighty Bible is a wonderful and natural step forward in the way we communicate the bible to kids. The message remains the same but the medium just got clear, interactive and visually exciting for today's youth."
The Almighty Bible has already released Genesis and Exodus in print and The Gospel of Mark will be released on March 1. The books can be ordered today at The Almighty Bible Store or at Amazon.com. The Genesis App is available now on the iPad and will soon be available for the iPhone/iTouch. The App can be downloaded for free and includes the story of Creation and Adam and Eve. There are an additional 3 sections to Genesis each available for 99 cents. The books will soon be available for the DROID, Kindle and Nook.
Stay up to date with all of the latest developments with the series by joining The Almighty Bible Fan Page on Facebook.
###