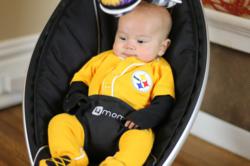 We are thankful for the generous donation of the mamaRoo baby soother
Pittsburgh, Pennsylvania (Vocus/PRWEB) February 04, 2011
As part of a friendly wager between the Greater Pittsburgh Chamber of Commerce and the Green Bay Area Chamber of Commerce, 4moms has put its award-winning mamaRoo infant seat on the line. Should the Packers win, a package of Pittsburgh's most innovative local products will go to Green Bay, including the mamaRoo, which will be donated to the Children's Hospital of Wisconsin. Should the Steelers win, 4moms will still donate the mamaRoo to the Children's Hospital (after all, it is a friendly wager), but Pittsburgh will take home donated services from Green Bay company American Prosthetics Components, Inc., along with lots of bratwurst, cheese curds, and beer.
"The mamaRoo is wonderful for soothing infants, so it's a great product for a hospital to have," says Rob Daley, CEO of 4moms. "That's why we decided to donate even if the Steelers win – because that's the most likely outcome of the game."
The mamaRoo will be a welcome addition at the Children's Hospital of Wisconsin, which offers extensive neonatal care. "We are thankful for the generous donation of the mamaRoo baby soother," said Lisa Jentsch, director of Newborn and Fetal Care for Children's Hospital of Wisconsin in Milwaukee. "I'm sure the little Packer fans that we care for in our Neonatal Intensive Care Unit will benefit from it long after the Packers bring home the trophy."
Other Pittsburgh companies wagering their products are Electric Owl Studios, Schell Games, and Carnegie Learning, Inc. Further details of the wager are available from the Greater Pittsburgh Chamber of Commerce.
About the mamaRoo
The only infant seat of its kind, the mamaRoo takes a unique approach to motion: it moves "like you do." Parents don't vibrate like bouncy seats or swing like swings. They bounce and sway, and so does the mamaRoo. Combining sleek, modern design with an innovative approach to motion, the mamaRoo offers parents a better option for soothing and entertaining their children.
Features: five unique motions, five nature sounds, adjustable speeds, toys inspired by classical artists, mp3 hookup, reclining seat, machine-washable fabric in six different colors.
Specs: weight limit 25 lbs. or until the child sits up unassisted, product weighs 14 lbs, six month warranty. Not wanting to add batteries to landfills, the mamaRoo is plug-in only. MSRP: $199.99.
About 4moms
Frequently referred to as "the Apple of the juvenile industry," 4moms began with a focus group of five moms from Mt. Lebanon, PA, who inspired the company's name (but 4moms sounds better than 5moms, so one mother took the title "The Stealth Mom"). Their experience (they have fifteen kids between them; one has two, yes two! sets of twins) plus the expertise of a team of fourteen engineers, researchers, and developers gives 4moms its innovative edge in the field of juvenile product design.
4moms is a brand of Thorley Industries, Inc., a 5-year-old company that develops and markets products for the $7.0 billion juvenile products industry. 4moms' award-winning products are available at more than 500 of the top specialty retailers nationwide as well as several national web retailers. For more specifics on all 4moms' products, visit their website at http://www.4moms.com.
# # #