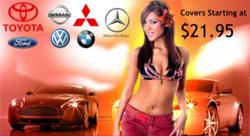 Quality Product and Discounted Prices You Wouldn't Find Anywhere Else
(Vocus/PRWEB) February 04, 2011
Car cover specialists TheCarCover.com, a Los Angeles-based car cover dealer and manufacturer, has recently finished a company-wide expansion which increases its own warehouse and storage capacity. At the same time, TheCarCover.com has redesigned its website to make it easier for customers to find or order car covers and accessories for almost any vehicle imaginable.
TheCarCover.com believes it has become a true one-stop shopping experience for car enthusiasts, auto dealerships, fleet car sales, and vehicle rental locations. TheCarCover.com backs this up by also recently hiring additional knowledgeable and experienced professionals to help both wholesalers and the average consumer more easily review its inventory. TheCarCover.com has also improved its capability to take in and produce custom orders for any vehicle, foreign or domestic. TheCarCover.com has experts familiar with over 30,000 different car models, including car cover and accessories for ATVs, boats, minivans, motorcycles, SUVs, and trucks.
These moves help turn TheCarCover.com into one of the best resources for car covers and accessories in the United States. From car covers to seat covers, floor mats to mud flaps, GPS Systems to backup cameras, and other interior products or exterior products, TheCarCover.com either already has it in stock, can quickly manufacture it, or else employees will offer to help customers locate whatever they need via special order or referral.
Every item that TheCarCover.com sells is inspected and reviewed to ensure guaranteed high quality standards. Even TheCarCover.com's custom-made products will keep any customer satisfied.
TheCarCover.com can make this promise to consumers because it specializes in making its clients car covers and accessories for even the rarest vehicles. If an item in not normally in stock because the vehicle is a rare or classic model, TheCarCover.com offers to custom make any car cover, seat cover, or floor mat, or other select items that a car enthusiast may be looking for, and at the best prices possible. All TheCarCover.com employees know to offer this service, and everybody who works for TheCarCover.com is asked to go above and beyond the kind of service usually offered elsewhere.
TheCarCover.com has built its business since 1987 by specializing in car covers, seat covers, floor mats, as well as other such accessories which experts say helps to maintain a vehicle's resale value. There are testimonials available at TheCarCover.com from both vehicle sales and rental outlets confirming this fact. TheCarCover.com. has improved its inventory, website and number of trained employees to enable the company to now carry an even wider array of products, and even better customer service.
TheCarCover.com now offers, among other items, air filters, air intake systems, ATV accessories, auto detailing supplies, automotive gauges, automotive lights, bed caps, bed rails, bike racks, billet grilles, boat accessories, body kits, brakes & brake pads, bug deflectors, bull bars, bumpers, car bras, car covers, cargo liners, chrome accessories, dash trim kits, dashboard covers, deflectors, fender flares and trim, floor liners, floor mats, garage accessories, gauge faces, grille guards, hitch and towing supplies, Jeep accessories, license plate frames, motorcycle accessories, mud flaps, mud guards, nerf bars, radar detectors, rear view mirrors, roof racks, running boards, RV accessories, seat covers, side view mirrors, ski racks, steering wheel covers, sunroof deflectors, tonneau covers, truck bed accessories, truck tents, truck toolboxes, trunk liners, winches, and window deflectors.
TheCarCover.com is open daily from 9 a.m. to 5:00 p.m. Pacific Standard Time and can be reached at 213-741-1685 or online at http://www.thecarcover.com.
# # #