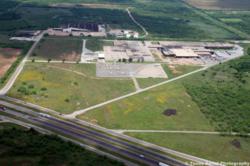 One of the area's few large-scale facilities, Windstar Industrial Center currently has 350,000 SF available for lease."
Abilene, TX (Vocus/PRWEB) February 07, 2011
Hackman Capital announced today that the United States Postal Service has renewed its lease for 61,085 square feet of distribution space at Windstar Industrial Center.
The 720,000 square foot, multi-tenant facility, ideal for manufacturing, service and warehouse-distribution, is located at 1000 East Interstate 20, 180 miles west of Dallas in the heart of wind power country.
One of the area's few large-scale facilities, Windstar Industrial Center currently has 350,000 square feet available for lease, with suites starting at 25,000 square feet.
In addition to its strategic location, the property offers tenants easily configurable space, heavy power, ample loading, abundant parking and other key amenities. Committed ownership, flexible terms and competitive rates are also major selling points for the property.
Windstar Industrial Center is part of the National Industrial Portfolio, a joint venture among entities formed by Hackman Capital, Calare Properties, Inc. and KBS Real Estate Investment Trust I (KBS REIT I). Hackman Capital asset manages the portfolio.
Paul and Erik Johnson of Paul Johnson Realtors are the property's listing brokers.
About Hackman Capital: Hackman Capital is a privately-held real estate investment firm specializing in the acquisition, management, redevelopment and adaptive reuse of industrial and office properties. Founded in 1986, the company has acquired or developed more than a billion dollars of property on behalf of the company, various investment funds and institutional clients. Hackman Capital currently manages for its affiliates more than 16 million square feet of real estate across the United States, including 56 buildings and 750 acres of developable land. The company is based in Los Angeles. For more information, visit http://www.hackmancapital.com.
About Calare Properties, Inc.: Calare Properties is a Massachusetts-based real estate investment manager that currently owns and manages more than 14 million square feet of distribution, manufacturing and office properties throughout the United States. Calare has made over $630 million in value-focused real estate investments through several private equity partnerships. For more information, visit http://www.calare.com.
About KBS REIT: KBS REIT was formed by Peter Bren, President, Charles Schreiber, Chief Executive Officer and Chairman, Peter McMillan, Executive Vice President and Treasurer and Keith Hall, Executive Vice President. For more information, visit http://www.kbsreit.com.
About KBS Companies: Headquartered in Newport Beach, Calif., KBS Capital Markets Group (http://www.kbs-cmg.com) is the dealer manager for KBS REIT I and KBS REIT II. KBS Capital Advisors is the advisor for KBS REIT I and KBS REIT II. Both companies are affiliates of KBS Realty Advisors, a private equity real estate company and SEC-registered investment advisor founded in 1992 by Peter Bren and Chuck Schreiber. Since 1992, KBS has completed transactional activity exceeding $16 billion via 19 separate accounts, six commingled funds and two private equity REITs. KBS has offices in Newport Beach, San Francisco, Chicago, Boston, Dallas, New York, Washington, DC.
# # #