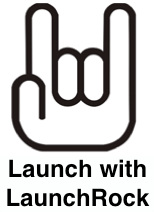 LaunchRock should be the first thing you do after you register a domain for a new website. Build buzz from day one.
PHILADELPHIA, PA (Vocus/PRWEB) February 04, 2011
What if there was a magic formula anyone could use to create an Internet sensation?
That's what the founders of LaunchRock (http://launchrock.com) may have discovered during a frenzied weekend of hacking and self-promotion.
While brainstorming ways to make new websites "go viral," the trio of web entrepreneurs stumbled upon a seductively simple idea:
1. Create a "coming soon" page before a website launches.
2. Promise access to the future website for anyone who signs up themselves and at least three friends.
"We saw this formula work with websites like Hipster and Forkly and thought to ourselves, why not enable every website to do this?" said Jameson Detweiler, co-founder of LaunchRock.
"It's like inviting someone to a party as long as they bring their friends."
To test the concept, LaunchRock took a page from the pharmaceutical industry's playbook and tested their product on themselves.
Over the Philly Startup Weekend, the LaunchRock team created a simple "coming soon" page for themselves and then, over the next four days, proceeded to earn over 25,000 visits to their website and over 2,200 mentions on Facebook and Twitter.
The story quickly got the attention of the tech press, who proclaimed it the end of the Internet and a sure sign of the next tech bubble. So much so it was on the front page of TechCrunch! Each of these stories drove more people to LaunchRock's website and pushed their signup numbers higher and higher.
Now LaunchRock is opening up their hype machine to other startups. Naturally, they are starting with those startups who referred the most signups to LaunchRock.
"LaunchRock should be the first thing you do after you register a domain for a new website. Build buzz from day one. Maple Butter (http://maplebutter.com) is the first website to use LaunchRock's viral technology [besides ourselves of course], and has gotten over 1,000 signups in a day. The activity they are seeing on the social networks is off the charts," says Detweiler.
Will this work for you company?
You better get in line quickly (and invite some friends while you're at it) if you want to find out. In the meantime, all eyes are on this new startup, which is surely one of the most meta, self-referential and self-aggrandizing the world has seen. At least in the last two weeks. Rock on.
Learn more about LaunchRock at Crunchbase.