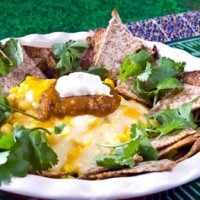 MyHealingKitchen.com is giving away free recipes for diabetes-healing Super Bowl Party beginning this Friday, February 4th
Santa Fe, NM (Vocus/PRWEB) February 04, 2011
Super Bowl Sunday is as much about snacking as football, where American viewers will munch 156 billion extra calories in snacks. Unfortunately, almost all of these popular snack foods represent a disastrous fumble for people with diabetes, blood sugar problems and those trying to control their weight.
To save the day, the popular website MyHealingKitchen.com is giving away free recipes for diabetes-healing Super Bowl Party beginning this Friday, February 4th, at http://myhealingkitchen.com/featured-articles/diabetes-friendly-superbowl-snacks/.
Under the guidance of Dr. Stefan Ripich and Food Editor Jim Healthy, the website is publishing low-calorie, low-glycemic recipes for a delicious variety of homemade and healthy Diabetes-Healing Super Bowl Snacks and Beverages. These are created from the top Diabetes Healing Superfoods identified by these two authors in their book, The 30-Day Diabetes Cure.
While most Super Bowl party-goers will be munching down on typical snacks that add to their weight and spike their blood sugar to dangerously high levels, fans with diabetes and other blood sugar problems can feast on low-calorie Diabetes-Healing Super Bowl Snacks such as … Super-Healthy "Macho Nachos" … Three-Bean Bison Chili … Stuffed Jalapeno Poppers … Spicy Chicken "Fings" … Caramelized Onion Dip with Baked Sweet Potato Chips …Shrimp Guacamole with GI-Safe Tortilla Chips … and many others.
These yummy, Diabetes-Friendly Snacks and Beverages eliminate the temptations and dangers that Super Bowl fans with blood sugar irregularities encounter when everyone around them is chomping down on snacks that will surely worsen their blood sugar and increase their weight. Now, with these scrumptious doctor-approved snacks, they can enjoy the party and actually help heal their diabetes at the same time. Score!
Diabetes-Hurting Traditional Snacks vs Our Diabetes-Healing Versions
Typical Beef Chili vs. Lean, Mean Three-Bean Bison Chili
345 calories, 7g fat, 7g fiber vs. 178 calories, 7 g fat, 4 g fiber
We substitute lean ground Bison (buffalo) or ground turkey breast. This lean protein and three varieties of glucose-lowering beans provide less saturated, better-quality protein, and much more diabetes-healing fiber. Plus you'll save close to 175 calories
Buffalo Wings with Blue Cheese Sauce vs. Spicy Chicken "Fings" with Blue Cheese Dip
1170 calories, 85g fat, 3g fiber vs. 206 calories, 3.9g fat, 1.9 fiber
Swap the artery-clogging Buffalo wings and full-fat blue cheese dressing for broiled spicy BBQ chicken "fings" make from skinless chicken breast "fingers" and our low-fat yogurt blue cheese. Saves a whopping 1,000 calories and over 80 grams of fat!
Potato Chips with Onion Dip vs. Caramelized Onion Dip & Sweet Potato Chips
(2 oz) 520 calories, 39g fat, 2g fiber vs. 110 calories, 6g fat, 2g fiber
The standard potato chips with onion dip deliver a load of greasy, salty, fried carbs and trans-fat. Instead, you can help heal your diabetes (and avoid the weight gain) by serving our version of homemade crispy-baked sweet potato chips with caramelized real onion dip made with low-fat yogurt and blended cottage cheese (instead of high-calorie sour cream). The sweet potato chips provide an extra boot of diabetes-healing fiber.
Nachos with Ground Beef and Sour Cream vs. Diabetes Healing "Macho Nachos"
(8 oz.) 1560 calories, 86g fat, 10g fiber vs. 396 calories, 11g fat, 15g fiber
The standard nachos snack is a calorie bomb that can easily increase your weight and make your diabetes and other blood sugar problems worse. Our Diabetes Healing version has less than half the calories and more than twice the fiber, yet their just as hearty and satisfying.
Scary Super Bowl Snack Facts:
1,800: The amount of calories the average Super Bowl fan will consume while watching the game. To burn that off would take walking for 10 hours or jogging for four hours.
30.4 million: The number of tons of snacks that Americans consume on Super Bowl Sunday. That's twice the average daily amount. The vast majority of these snacks are terrible for people with diabetes because they raise blood sugar, increase inflammation and add to their weight.
14,500 tons. The amount of potato chips Americans eat while watching the Super Bowl.
$595 million. The amount of money American spend on Super Bowl snacks. Smart homemakers can save money and improve their family's health by making their own low-calories, diabetes healing munchies. Those a big savings in today's economy.
$172. The amount of money the average American household will spend on Super Bowl snacks an beverages.
52 million cases. The amount of beer consumed during the Super Bowl. Beer is one of the most dangerous beverages for people with diabetes because it spikes blood sugar levels through the roof and increases belly fat. The Diabetes-Friendly Beverages at http://myhealingkitchen.com/featured-articles/diabetes-friendly-superbowl-snacks/ are low-calories, refreshing and won't raise blood sugar.
To learn more or arrange an interview, please contact:
Jim Healthy
jim(at)jimhealthy(dot)com
505-982-7405
# # #