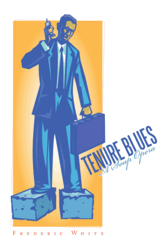 Fort Worth, TX (Vocus/PRWEB) February 04, 2011
In his novel Tenure Blues: A Soap Opera (published by AuthorHouse), author Frederic White spins an intriguing tale about the secrets and lies of three bright young law professors seeking tenure at a Midwestern law school. In the wake of the dean's son's sudden death, each of the law professors' dark motives are revealed - and the mystery behind the young man's death becomes even more suspicious.
The dean's son was struck by a car one rainy night on a lonely road. Was it an accidental hit-and-run or an intentional act meant to silence someone who knew too much? Each of the law professors has been hiding shameful secrets, and the dean's son was aware of it all. The damaging information he possessed would surely have ruined personal lives and careers if exposed. The law professors have a lot riding on the outcome of this investigation, as the battle for the prestigious promotion proves fatal.
Author Frederic White's experience as a lawyer, as well as a law professor and dean at three different law schools in various parts of the country, has made him a keen observer of the diverse personalities that populate the field. His development of his fictitious novel, Tenure Blues, was largely assisted by his first-hand observations of needy students, eccentric faculty members, power-hungry alums, manipulative trustees and cheating spouses. White's tongue-in-cheek story is an examination of what really goes on in law schools around the country.
From ForeWord Clarion Reviews:
"Tenure Blues possesses all the ribald hijinks that would make for an excellent film treatment. What's better comedy fodder than ambition, money, power, and sex?" - Gary Presley, ForeWord Clarion Reviews
About the Author
Frederic White graduated with a bachelor's degree in political science from Columbia College at Columbia University in 1970, and from Columbia University School of Law in 1973. He served as a municipal bond attorney with a major law firm for five years. White then served as a law professor at Cleveland-Marshall College of Law at Cleveland State University for 26 years. He was dean and professor at Golden Gate University School of Law, San Francisco, for 4.5 years. White has been dean and professor at Texas Wesleyan University School of Law in Fort Worth, Texas, since 2008. This is his first work of fiction.
AuthorHouse is the leading provider of self- publishing, marketing, and bookselling services for authors around the globe. For more information, visit http://www.authorhouse.com.
EDITORS: For review copies or interview requests, contact:
Marketing Services
Tel: 888-519-5121
Fax: 812-961-3133
Email: pressreleases@authorhouse.com
(When requesting a review copy, please provide a street address.)
# # #