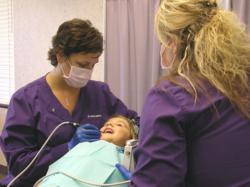 People in every state have benefited from Delta Dental grants and donations.
Oak Brook, IL (Vocus/PRWEB) February 07, 2011
Over the past five years, uninsured children and adults seeking dental care through charity dental clinics, children participating in Head Start programs, students pursing degrees in dentistry and dental hygiene, and dentists trying to retire massive debts have benefited from $250 million in grants and donations from Delta Dental member companies throughout the country.
"People in every state have benefited from Delta Dental grants and donations," said Chris Pyle, director of public relations for the Delta Dental Plans Association. "Whether it is mobile dental units in Washington, South Dakota or Arkansas; entertaining education programs in New Jersey, Connecticut, Missouri, Michigan or Oklahoma; school-based sealant programs in Wisconsin or Colorado; safety net dental clinics in California, New Mexico or Pennsylvania; or Head Start kids in Minnesota or Kansas, Delta Dental is having a huge impact on the lives of underserved adults and kids."
Delta Dental plans to continue investing in oral health, and that's good news for the millions of adults who will remain without dental coverage even after health care reform mandates are fully implemented. Under health care reform, beginning in 2014, adults will be required to purchase health insurance or else pay a fine. Part of the coverage they will be required to purchase is a yet-to-be-defined package of dental benefits for their children. For the first time, parents shopping for medical and dental benefits will be able to do so via state insurance exchanges, where they'll also have access to varying levels of subsidies.
When crafting the language for the health insurance mandate, Congress was careful to protect a parent's right to purchase a child's dental coverage from a dental benefits expert, such as Delta Dental. Whether parents acquire this pediatric dental coverage from Delta Dental or some other carrier, millions of currently uninsured children will soon have access to coverage for the first time. Still, the legislation did nothing to ensure dental coverage for adults and, unfortunately, even for the children, access to coverage does not always translate into access to care.
"Access may always be an issue," said Pyle. "While health care reform will mean new coverage options for children, if historical trends continue, we know that access to care for low-income Americans and their children will remain a challenge. That's why Delta Dental remains committed to supporting programs that link children – and adults – to the care they need."
Each year, Delta Dental member companies donate millions of dollars to support programs such as mobile dental units that visit schools in underserved areas, school-based dental clinics and sealant programs, charity dental clinics, Give Kids a Smile programs, fun interactive oral health education programs for children and their teachers, and programs aimed at increasing the supply of dentists through school loan repayment programs and dental school scholarships.
For more information on Delta Dental's charitable activities in your state, visit deltadental.com.
The not-for-profit Delta Dental Plans Association, based in Oak Brook, Ill., is the leading national network of independent dental service corporations specializing in providing dental benefits programs to more than 54 million Americans in more than 93,000 employee groups throughout the country.
# # #