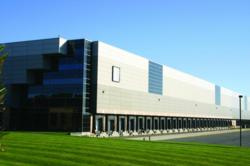 With Coca-Cola, Plastipak and Lego, we're three for three.
Enfield, Connecticut (Vocus/PRWEB) February 09, 2011
Hackman Capital announced today that The Coca-Cola Company has leased 281,000 square feet at 555 Taylor Road in Enfield Business Park. The company will be using the space for the distribution of finished goods, associated with the expansion of their Northampton bottling operations. The lease is one of the largest to have been executed in Southern New England over the last several years.
"We are thrilled that we could offer the company the state-of-the-art space they were seeking in a location so strategic for their operations," said Michael Hackman, founder and CEO of Hackman Capital.
Coca-Cola will be joining Plastipak and LEGO at the high-image industrial facility at 555 Taylor Road. Plastipak leased 222,799 square feet at the building in December, 2009. LEGO, which occupies more than 200,000 square feet at the building and a total of more than 400,000 square feet at the park, renewed their lease in December, 2009.
"Enfield Business Park is one of the few facilities capable of landing such significant tenants," said Sean Duffy of Cushman Wakefield, the property's leasing broker. "With Coca-Cola, Plastipak and Lego, we're three for three. But it's no wonder we offer a lot of bang for the buck."
Originally built by LEGO, Enfield Business Park offers tenants the optimal combination of assetsa prestigious location, state-of-the-art amenities, robust infrastructure with heavy power, impeccable mechanicals, and access to a strong labor pool and significant economic incentives all in a low-cost operating environment ideal for distribution, manufacturing and R&D.
Approximately 80,000 square feet is still available for lease at 555 Taylor Road. Additional space at Enfield Business Park is also being leased in the manufacturing building at 300 Shaker Road. Enfield Business Park is part of the $516 million National Industrial Portfolio, a joint venture among entities formed by Hackman Capital, Calare Properties, Inc and KBS Real Estate Investment Trust.
CLICK HERE to learn more about Enfield Business Park.
About Hackman Capital
Hackman Capital specializes in the acquisition, management, redevelopment and adaptive re-use of industrial and office real estate. Founded in 1986, Hackman Capital has successfully acquired or developed more than one billion dollars of property on behalf of the company, its affiliates, various investment funds and institutional clients. The company manages all aspects of the real estate process, from acquisition through asset management and disposition. It offers services including property and asset management, construction management, marketing and leasing, finance and administrative functions, legal, compliance and investor relations. Hackman Capital currently manages buildings totaling more than 16 million square feet, including 56 buildings and 750 acres of developable land. The company is based in Los Angeles, California. For more information about the company, please visit http://www.hackmancapital.com.
About Calare Properties, Inc.
Calare Properties is a Massachusetts-based real estate investment manager that currently owns and manages more than 14 million square feet of distribution, manufacturing and office properties throughout the United States. Calare has made over $360 million in value-focused real estate investments through several private equity partnerships. For more information, visit http://www.calare.com.
About KBS REIT
KBS REIT was formed by Peter Bren, President, Charles Schreiber, Chief Executive Officer and Chairman, Peter McMillan, Executive Vice President and Treasurer and Keith Hall, Executive Vice President. For more information, visit http://www.kbsreit.com.
About KBS Companies
Headquartered in Newport Beach, California, KBS Capital Market Group is the dealer manager for KBS REIT I and KBS REITA II. KBS Capital Advisors is the advisor for KBS REIT I and KBS REIT II. Both companies are affiliates of KBS Realty Advisors, a private equity real estate company and SEC-registered investment advisor founded in 1992 by Peter Bren and Chuck Schreiber. Since 1992, KBS has completed transactional activity exceeding $16 billion via 19 separate accounts, six commingled funds and two private equity REITs. KBS has offices in Newport Beach, San Francisco, Chicago, Boston, Dallas, New York, Washington, DC.
# # #