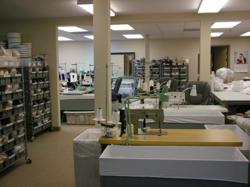 From the very beginning we insisted on producing a quality product line in a market flooded with low-end, mass-produced garments
Virginia Beach, VA (Vocus/PRWEB) February 08, 2011
Nouvelle, Inc. is pleased to announce its recent recognition in Inside Business, Hampton Roads' premier award-winning business journal based in Norfolk, Va.
Nouvelle Inc. designs and manufactures high quality post-surgical compression wear for patients recovering from a variety of reconstructive, plastic, and cosmetic procedures. The company recently reported an unprecedented expansion of its compression and shapewear garment manufacturing business, thanks to emerging markets throughout Europe and beyond.
"Currently, 30 to 40 percent of our sales are to international clients," said Dawn Cover, owner of Nouvelle Inc. "These numbers continue to grow and we are prepared to meet the demand as we consider relocating to a larger manufacturing facility."
"It's enormously gratifying to be recognized at home by publications such as Inside Business, as well as abroad for the work and care we've put into our products and services," she continued. "From the very beginning we insisted on producing a quality product line in a market flooded with low-end, mass-produced garments."
Nouvelle manufactures and distributes post-surgical compression wear, body shaping garments, and scar care products worldwide from its facility in Virginia Beach, Va. Please visit the company web site for additional information. The company also publishes Healing Transformations, an online forum dedicated to sharing informative, insightful and helpful information regarding cosmetic, aesthetic, and reconstructive surgery. Dawn Cover is available for media interviews and/or photographs and may be contacted directly via email or telephone.
# # #