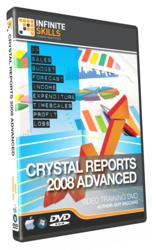 Makes mastering Crystal Reports easy
(Vocus/PRWEB) February 05, 2011
Training solutions company Infinite Skills has just released a new tutorial series for the advanced use of Crystal Reports 2008. As a versatile business data presentation tool, Crystal Reports has become increasingly important across industries, and these lessons have been designed to help users develop more sophisticated reports and achieve higher levels of efficiency.
Crystal Reports Advanced Training
"We're excited to build on our Crystal Reports fundamentals title and offer a higher level of training for more experienced users," said Infinite Skills president Mike Spaulding. "Video training is commonly thought of as a beginners option, but we've found that it's also a great way for more established users to fine-tune and expand what they know."
The Crystal Reports 2008 Advanced Training is narrated by trainer Guy Vaccaro, an experienced software coach with an expertise in productivity and presentation applications. At 6.5 hours, the full video course features 85 lessons, starting with a quick review of common functions and going through advanced formulas, report alerts, automated distribution and more. The tutorials logically build on one another, beginning with the first lessons presented onscreen.
Because the training course is a successor to the lessons presented in the Crystal Reports fundamentals training course, the review of basic concepts are briefly covered. Vaccaro helps users incorporate conditional formatting controls that apply font modifications and style settings dependent on the values of the data collected. Next, the tutorials show how to work with variables, SQL data sources, and special parameters. From here, the training goes through report alerts, sections, sub reports, Crystal cross tabs, custom charts and automation.
The Advanced Crystal Reports 2008 training videos can now be purchased as a cross-platform DVD-ROM or downloaded instantly online through the digital delivery option. The retail price is 99.95 USD, and orders ship worldwide. Customers interested in also purchasing the Crystal Reports 2008 fundamentals course can also find more information on the Infinite Skills website:
Advanced Crystal Reports Tutorial - InfiniteSkill.com
About Infinite Skills Inc
Infinite Skills is a growing provider of video training solutions for businesses and individuals worldwide. By producing unique in-house tutorial courses and partnering with top content providers, the company offers comprehensive educational resources on hundreds of programs and technologies.
http://infiniteskills.com/training/crystal_reports_2008_advanced.html
# # #