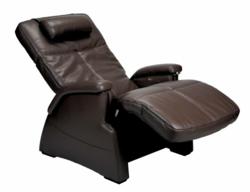 Long Beach, CA (Vocus/PRWEB) February 07, 2011
Human Touch®, the U.S. market leader of innovative massage chairs and other wellness solutions, is proud to introduce the Perfect Chair® Serenity™ Zero-Gravity recliner. This luxurious chair offers an outstanding level of comfort and relaxation, which is especially important for those seniors looking to stay active and find an easy way to recover and rejuvenate every day. Dr. Hoon Kim, Acupuncturist and Medical Qi-Gong Practitioner, recommends the Perfect Chair® Serenity™ to all seniors trying to sustain day-to-day activities.
The PC Serenity™ is the newest chair from the Perfect Chair® line by Human Touch®. This zero-gravity recliner features built-in jade stones which radiate far-infrared heat and wave therapy. The far-infrared heat penetrates muscle tissue up to three inches deep. The healing warmth helps to reduce inflammation, relieve joint and muscle pain, improve circulation, and speed cellular recovery.
"For active adults who look to take care of their bodies, excellent circulation, increased oxygen in the blood and fast recovery from pain and disease are needed in order to sustain day to day activities. I recommend the Perfect Chair Serenity™ because it helps deliver this same kind of therapy," says Dr. Kim. "The jade found in the Serenity™ chair consists of many of the same elements found in the human body. Because they emit similar frequencies, the jade's vibration goes deeper into the cells while the far-infrared heat penetrates the muscle layer." Dr. Kim is a member of the Human Touch® Wellness Council, a group of esteemed experts dedicated to educating the public about the important benefits of massage therapy, relaxation and other wellness practices.
The PC Serenity™ integrates earth's natural elements and the healing arts of the Far East into an amazingly comfortable chair that soothes tired, aching muscles, elevating the body to a new state of relaxation. The design is inspired by the neutral body posture chaise position developed by NASA to support astronauts' ascent into orbit. The ergonomic frame of the Perfect Chair® puts the body in a virtually weightless position that physicians recommend as the healthiest way to sit. The PC Serenity™ is part of Human Touch's line of Perfect Chair® Recliners, sleek and elegantly designed relaxation chairs, which incorporate zero-gravity engineering to relieve soreness, pain and fatigue caused by the earth's constant gravitational pull on the body.
Below are some of the key features of the PC Serenity™:

Jade Stone-Transmitted Far-Infrared Heat: Jade stones radiate far-infrared rays that deliver healing
warmth up to three inches deep into tissue, reducing inflammation, relieving joint and muscle pain, improving circulation, and speeding cellular recovery.

Serenity™ Wave Therapy: The chair's rapid-deploying heat quickly reaches the optimal temperature and then electronically maintains the perfect level of warmth. Combine that with gentle-wave therapy and elevate the body to a new state of comfort and ultimate relaxation.
Electric Recline System: A smooth-functioning, high-performance recline system with whisper-quiet motors eases the chair from upright to full recline in less than 15 seconds. You control your journey from sitting to floating with an unobtrusive, easy-to-use fingertip recline lever.
Luxurious Bonded Leather: With comfort, flexibility and durability in mind, Human Touch's bonded leather is crafted using a combination of man-made materials and genuine leather. The generous cushions and furniture springs provide a soft touch and an indulgent seating experience.
The PC Serenity™ is available for sale at participating retail locations nationwide or at http://www.humantouch.com for $3,999.00 MSRP. It is available in four different colors: Black, Espresso, Red, and Cashew.
About Human Touch®
In pushing the boundaries of its traditional massage chairs and wellness products through advanced proprietary technology and innovation, Human Touch® is focused on infusing health and wellness into everyday lives through high-quality, design-oriented and award-winning massage chairs, Zero-Gravity Perfect Chair® Recliners and other wellness products and solutions. Human Touch® has been making people feel better™ for more than 30 years by developing state-of-the-art massage and wellness products, as well as by providing valuable consumer education about the substantial health and wellness benefits of regular massage therapy, relaxation and proper posture. Stress relief, increased range of motion, pain relief, improved circulation and increased immunity are just some of the valuable health benefits associated with regular massage therapy. Human Touch® products are available at back care specialty stores, fine furniture stores across the country, through international retailers and distributors in more than 40 countries, as well as online at http://www.humantouch.com.
# # #