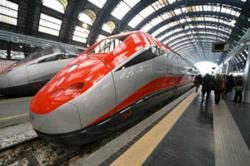 Train travel in Italy is a popular option given its convenience and affordability, especially when compared to the alternatives by car and plane
New York, NY (Vocus/PRWEB) February 08, 2011
Select Italy has launched a newly improved train-ticketing service for convenient travel by rail in Italy. Customers can now easily purchase all the Italian Eurostar routes with the greatest of ease at SelectItaly.com. Prices are among the most competitive in the U.S., with delivery rapidly and securely ensured by means of e-tickets (paper tickets can be delivered on request for a supplemental fee). All Eurostar Italia routes are available; upon request, Select Italy can also provide tickets for local routes, night trains with couchette, wagon-lits and cross border routes.
Train travel in Italy is a popular option given its convenience and affordability, especially when compared to the alternatives by car and plane. In particular, the highly traveled segments between the major cities – Rome, Florence, Venice, Bologna, Milan and Naples – have grown in demand with the introduction of the Eurostar Italia trains (including super-fast Alta Velocita', or AV trains, and Eurostar City trains). These "bullet" trains offer multiple departures and quick connections, taking passengers from city center to city center in comfortable carriages with high-style Italian design. Most Eurostar Italia trains have a snack bar and restaurant service, and in first class there is – on some segments – a complimentary newspaper and magazine service. In the latest-generation cars, outlets right at your seat are provided to plug in your laptop, even in second class.
Purchasing a ticket, however, has until now often been confusing: the Italian rail website systematically rejects credit cards not issued in Italy and the presentation of numerous train types can be confusing. As a result, pre-purchase can be a futile (or even impossible) exercise. By contrast, the train booking interface on SelectItaly.com is clear and simple. Upon entering the number of people traveling, date of travel, departure and arrival cities, and desired departure time, customers are given quotes for both first-class and second-class tickets, and booking can be rapidly completed online. No long lines or fuss – purchasing Italian train tickets has never been such a snap.
For current italian train schedules, ticket prices and additional information visit selectitaly.com.
About Select Italy:
Based in Chicago, with branches in New York City and Shanghai and representatives in Italy, Select Italy has been a trusted ambassador of Italian travel expertise since its establishment in 1997 by Italian-born company President, Andrea Sertoli. Select Italy is the ultimate source for travel in Italy, offering a wide array of superior Italian products and services, including customized itineraries, state-of-the-art tours and packages, wedding/honeymoon trips, unique culinary classes, a complete pre-departure ticketing service for museums and musical events, private guided services, yacht charters, transportation, hotel reservations, villa bookings and more. Select Italy is committed to creating the perfect vacation and maximizing enjoyment in Italy for its clients by adhering to the highest standards of professionalism. For more information call (800) 877-1755 or visit selectitaly.com.
###