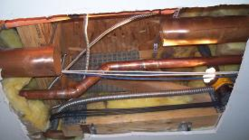 We had copper stolen out of a few of our vacant houses, and we needed something to protect the other houses. When you get hit, you get hit for thousands.
New York, NY (Vocus/PRWEB) February 07, 2011
It's not just gold that has soared in price lately; copper is breaking records too, increasing in price by 50% in the last 12 months alone. Savvy thieves are raiding homes to steal the copper piping. A one-cent coin from before 1982 is now worth three cents in scrap metal value. (More recent coins now contain mostly zinc, which is worth much less.)
But there's a chilling side-effect to this quirk: according a study conducted by University of Indianapolis, property owners can lose $4,314 on average in metal thefts, which include theft of copper pipes, wires, coils, aluminum siding etc. Copper theft, in particular, is such big business that the U.S. Department of Energy estimates that metal theft costs U.S. businesses around $1 billion a year. Savvy burglars are entering homes just to steal the copper piping and wiring.
On January 30th at 12:08 p.m., SimpliSafe's wireless home security system caught a copper thief red-handed, when the burglar set off a motion sensor in a vacant home in Medford, NY. Upon hearing the siren, he disassembled the alarm system in an attempt to disable it. Believing the alarm to be defeated, he remained on the property. Fortunately for the homeowner, the alarm used a new type of technology—called "smash-immunity"— which was developed by SimpliSafe Inc. The alarm's micro cell phone had already alerted the police to the burglary in progress.
The police arrived six minutes later and apprehended the burglar, who was in the basement trying to cut out the copper pipes. The suspect was charged for burglary in the third degree.
The property owner, Mr. Singh, has been hit several times by the problem: "I buy homes, fix them up, and sell them. We had copper stolen out of a few of our vacant houses, and we needed something to protect the other houses. They take the copper from the plumbing and sometimes the boiler. When you get hit, you get hit for thousands."
Realtor Magazine recently named SimpliSafe's security system a "Cool Tool" for protecting vacant properties. The company sells its alarm system online. Many burglar alarm contracts have a three-year minimum, but SimpliSafe's alarm monitoring is offered on a pay-as-you go basis for just $14.99, which is half the cost of the alternatives. The best part for real estate professionals is that the systems are portable and extremely easy to install. Once the property has been sold, the owner can take the system to the next investment home.
About SimpliSafe Inc.
SimpliSafe Inc. is a leading provider of wireless home security systems. Its alarm systems are packed with cutting-edge technology, smart software, and are defyingly easy to use. SimpliSafe was created as a counterpoint to traditional security companies, many of which thrive selling outdated technology at highway-robbery prices. For more information visit http://SimpliSafe.com.
# # #