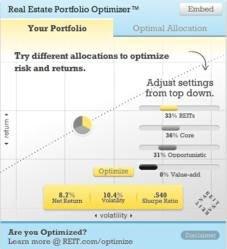 We hope tools like the Real Estate Portfolio Optimizer™ will spark essential conversations. - Steven A. Wechsler, NAREIT President and CEO
Washington, DC (Vocus/PRWEB) February 07, 2011
NAREIT, the National Association of Real Estate Investment Trusts, today released a study on optimizing risk and return in pension fund real estate portfolios that provides guidance, as well as some surprises, for pension funds seeking to lower their real estate risk profiles in the wake of losses incurred during the financial crisis.
The analysis, based on approximately two decades of actual performance data, shows that an optimally blended real estate portfolio with about one-third in publicly-traded REITs and the balance in private equity real estate funds produced better risk-adjusted returns than either portfolios comprised of all REITs or all private equity real estate funds alone.
Core Real Estate Funds Riskier Than Many Believe
The study also found that undiversified real estate portfolios comprised of 100 percent core funds, commonly perceived of as the safest real estate investments and to which pension funds have dramatically increased their allocations over the past year, were actually significantly riskier than optimally blended public/private real estate portfolios.
For example, a blended real estate portfolio allocated to 50 percent core funds, 30 percent REITs and 20 percent opportunity funds delivered 10–20 percent average annual returns in nearly 60 percent of rolling 5-year holding periods over the past 22 years, single digit annual returns in the other 40 percent of 5-year holding periods, and never produced a 5-year period of negative returns – even during 2008, 2009 and 2010 when commercial property values plummeted.
By comparison, a portfolio of core real estate funds alone produced 10–20 percent average annual returns in only 40 percent of rolling 5-year holding periods and losses in more than 20 percent of 5-year holding periods.
New Real Estate Portfolio Optimizer Tool Introduced
Along with the research, NAREIT released the Real Estate Portfolio Optimizer™, an interactive, software-driven tool based on the study data that pension fund managers can use to evaluate their real estate allocation strategies and optimize portfolios. The optimizer calculates the actual returns of more than 176,000 portfolios representing various allocations to REITs and private equity core, value-added and opportunity real estate funds. The optimizer and NAREIT's research paper can be found at REIT.com/optimize.
"Given the risk reduction benefits and performance advantages of combining publicly-traded REITs and private real estate investments, it appears that pension funds could realize important advantages by reassessing their traditional reliance on private equity and other direct real estate investment," said NAREIT President and CEO Steven A. Wechsler. "We hope tools like the Real Estate Portfolio Optimizer will spark essential conversations in the ongoing debate over how the American retirement fund system can achieve target returns, reduce risk and meet obligations to current and future retirees."
Different Public/Private Return Cycles Provide Diversification, Reduce Volatility
The ability of blended REIT/private equity real estate portfolios to reduce portfolio risk and enhance returns , according to NAREIT Senior Vice President of Research and Industry Information Brad Case, is based on the fact that the return cycles for REITs and direct real estate investment are different, providing diversification for the overall blended portfolio.
"Because public equity markets are liquid and efficient, REIT share prices respond quickly to investors' anticipation of future economic and market developments, and REIT returns therefore lead private equity real estate returns – both going into downturns and recoveries," Case said. "In the last complete real estate market cycle that ended in 2008, REIT returns peaked approximately one year ahead of those of private real estate funds and began their recovery approximately three years ahead of private funds.
"The lead/lag relationship between REIT and private equity real estate fund returns enables REITs to act as both a powerful diversifier to reduce overall portfolio volatility and a sparkplug to improve performance," he said.
REITs Provide Liquidity, Current Income
"At a point in time when many pension funds are actively seeking ways to reduce their risk and generate a higher level of continuing income to fund their liabilities, increasing allocations to REITs can provide real benefits," said Joseph Harvey, President and Chief Investment Officer of Cohen & Steers, one of the world's leading real estate investment management firms. "In recent years, endowments and foundations, who have historically allocated the majority of their real estate portfolio to private equity funds, have begun increasing allocations in their real estate portfolios to REITs in order to add liquidity and enhance returns."
Harvey last year authored a Cohen & Steers study on REIT and private equity real estate fund performance.
Digital Assets and Links
Read NAREIT's study, Optimizing Risk and Return in Pension Fund Real Estate: REITs, Private Equity Real Estate and the Blended Portfolio Advantage
Test the Real Estate Portfolio Optimizer and click the Embed button to add it to your site
Watch a video of NAREIT's Brad Case explaining the Real Estate Portfolio Optimizer
About NAREIT
NAREIT is the worldwide representative voice for REITs and publicly traded real estate companies with an interest in U.S. real estate and capital markets. NAREIT's members are REITs and other businesses throughout the world that own, operate and finance income-producing real estate, as well as those firms and individuals who advise, study and service those businesses.
NAREIT is not acting as an investment adviser, investment fiduciary, broker, dealer or other market participant, and no offer or solicitation to buy or sell any security or real estate investment is being made. This information is educational in nature and is not intended by NAREIT to serve as the primary basis for any investment decision. Investments and solicitations for investment must be made directly through an agent, employee or representative of a particular investment or fund and cannot be made through NAREIT. The statements made in this publication are directed solely to institutional pension funds and employee benefit plans, and not to individual investors. Information is based on quarterly net total returns of the FTSE NAREIT Equity REIT Index, the National Council of Real Estate Investment Fiduciaries' (NCREIF) Open-End Diversified Core Equity (ODCE) Funds Index and NCREIF/Townsend Fund Indices, 1992q1-2010q3. Fees and expenses are assumed to be 50 bps per year for publicly traded equity REITs, and fees and expenses for core, value added and opportunistic funds are as reported by NCREIF. However, actual REIT fees and expenses may be higher or lower, which could affect significantly the stated portfolio results. All REIT data are derived from, and apply only to, publicly traded securities. While such data are believed to be reliable, the data are subject to revision or restatement. NAREIT does not warrant or guarantee for the accuracy or completeness of such data, and shall not be liable for such data or any errors or omissions therein. See http://reit.com/optimize for access to important information regarding NAREIT's Real Estate Portfolio Optimizer™ and its underlying data and assumptions. Performance results are provided only as a barometer or measure of past performance, and future values will fluctuate from those used in the underlying data. Any investment returns or performance data (past, hypothetical or otherwise) shown in the Real Estate Portfolio Optimizer™ are not necessarily indicative of future returns or performance. Use of the Sharpe Ratio assumes that all returns are normally distributed for all data periods. Before an investment is made in any security, fund or investment, investors are strongly advised to request a copy of the prospectus or other disclosure or investment documentation and read it carefully. Such prospectus or other information contains important information about a security's, fund's or other investment's objectives and strategies, risks and expenses. Investors should read all such information carefully before making an investment decision or investing any funds. Investors should consult with their investment fiduciary or other market professional to determine whether investments discussed in this communication are consistent with their own financial goals and objectives before making any investment in any security, fund or other investment.
# # #