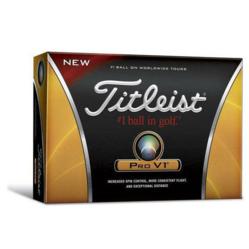 Lafayette, LA (Vocus/PRWEB) February 07, 2011
The Titleist Pro V1 and Pro V1x golf balls have been the golfer's ball of choice for years, and now an upgraded version of the world's top-selling balls is available at Golfballs.com.
The Pro V1 and the Pro V1x both received a major upgrade for the upcoming golf season, and the Golfballs.com staff got a first-hand look at the improved balls during the recent 2011 PGA Merchandise Show in Orlando, Fla.
Titleist, long considered the #1 ball in golf by tour professionals and golf amateurs alike, has released its most technologically advanced golf balls to date. With golf technology constantly advancing to meet the needs of demanding players, the highly anticipated new Pro V1s are expected to achieve the best combination of distance, consistent flight, soft feel and greenside control that the game has ever seen.
"At Titleist, we care about golfer's games and will only introduce a new golf ball if it truly performs better and helps them shoot lower scores," said Mary Lou Bohn, Vice President, Titleist Golf Ball Marketing and Communications. "The new Pro V1 and Pro V1x are the best performing balls we've ever made, and the best performing balls in the game."
The original Pro V1 Golf Ball was released by Titleist 10 years ago, and throughout its existence Titleist has continued to raise the bar for quality engineering and performance with every new model as Titleist continued to push the limits of what a golf ball can do.
Golfers planning to arm their game with the new Pro V1 or Pro V1x golf balls can expect longer distance, increased spin control, and a more consistent ball flight than previous Pro V1 models. In order to ensure consistent top-quality performance and durability, every Titleist golf ball is produced at a Titleist facility using precision process technology.
"The Pro V1 and Pro V1x have always been our biggest sellers," said Tom Cox, President and CEO of Golfballs.com. "So when Titleist says these new balls are the best they've ever made, that translates into better performance for our customers."
Golfballs.com recommends customizing your new Titleist Pro V1 or Pro V1x with a personal message. Golfballs.com offers the fastest turnaround for personalized golf balls in the industry and can have your new Titleist Pro V1s printed and shipped to you within one to two days.
"Over half of the Titleist golf balls that we sell are imprinted in some way," Cox said. "A great way to distinguish your ball is to have your name or company logo printed on it."
ABOUT GOLFBALLS.COM
From humble beginnings in a 100-square-foot room in a small-town warehouse, to its current state-of-the-art 20,000-square-foot facility, Golfballs.com has grown to become one of the world's leaders in on-line golf ball and equipment sales. Co-Founder Tom Cox has served as president and CEO since its 1995 start-up, growing the business from $17,000 in first-year sales to a 40-employee company that has over $10 million in annual sales, and which has sold over 50 million golf balls direct to consumers in all 50 states and over 50 countries. Golfballs.com has an in-house production department and is an authorized internet retailer for key brands including Titleist, Callaway and Nike and has been an approved Titleist imprinter since 2003, creating a company-wide focus on the sale of customized and personalized golf equipment. The company opened its retail outlet store in 2004 and recently launched loyaltylogo.com, a full-service promotional product distributor catering to businesses.
# # #