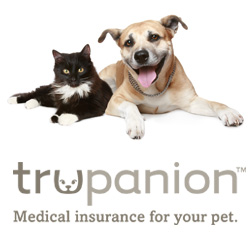 Seattle, WA (Vocus/PRWEB) February 07, 2011
February is American Heart Month and Trupanion, the nation's fastest-growing pet insurance company, is reminding pet owners that heart disease doesn't just affect humans – it affects pets as well. Today, the company released a list of pet breeds prone to heart disease, according to pet insurance claims received from Trupanion policyholders.
Here is the list of the pet breeds with the most number of heart-disease related claims, according to Trupanion:
1. Boxer
2. Doberman Pinscher
3. Domestic Mediumhair cat
4. Cavalier King Charles Spaniel
5. Domestic Longhair cat
With three dogs and two cats in the top five, this condition doesn't appear to be species-specific. Heart disease is an umbrella condition that includes cardiovascular disease, cardiomyopathy, heart failure, endocardiosis, valvular disease and stroke, among others.
Symptoms of heart disease include fluid retention, faster or slower heart rate, weakness, lethargy and weight loss. Treatment is varied for each condition, but could include hospitalization, diuretics, medication, and a special diet.
Trupanion pet insurance covers 90% of all diagnostic testing, treatments, and medications associated with these conditions.
About Trupanion™
Trupanion™ pet insurance offers cat insurance and dog insurance in the United States and Canada. Trupanion™ is self-underwritten by the American Pet Insurance Company, allowing Trupanion™ to offer a simple, customizable pet insurance policy with no payout limits and 90% coverage of veterinary bills. Enrolled pets receive lifetime coverage for diagnostic tests, surgeries, and medications if they get sick or are injured, with no incident, annual or lifetime limit. Trupanion's mission is to deliver fast, simple and user-friendly financial support to pet owners. For more information about Trupanion™, call 800-569-7913 or visit http://www.TrupanionPetInsurance.com.
About the North American Pet Health Insurance Association
Trupanion™ is a founding member of the North American Pet Health Insurance Association (NAPHIA). Founded in 2007, the North American Pet Health Insurance Association is committed to educating and promoting the values and benefits of quality pet health insurance to North American pet owners, the general public, and the veterinary community. As an association, we are committed to high standards and transparency in all of our actions and products. To learn more, visit the North American Pet Health Insurance Association website at http://www.naphia.org.
# # #