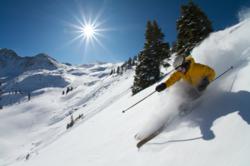 We are seeing similar trends which indicate that folks are not willing to sacrifice another ski vacation this year. They are eager to get back on the slopes.
Keystone Colorado (Vocus/PRWEB) February 05, 2011
For the second year in a row, the SIA (Sports Industries of America) Snow Show returned to Denver, Colorado, bringing with it over 18,000 snow sports industry professionals to do business, socialize and network in the Rocky Mountains. The annual SIA show reveals the latest trends, styles and innovations in board sports, including skiing, snowboarding, cross-country, tele, backcountry and snowshoe.
Key To The Rockies, a Keystone lodging company is located in Keystone Colorado, one of the closest mountain resorts to Denver and a member of the influential Vail Resorts Family of mountain resorts. Key To The Rockies invites members of the SIA tradeshow and snow sports consumers to enjoy their board sport of choice on the slopes of Keystone Resort.
This year, organizers of the Snow Show reported that they saw significantly bigger numbers and felt a much more optimistic and energetic atmosphere compared to the past couple years. SIA President David Ingemie said he attributes the success to great snow and record retail sales in 2010. The industry topped $1 billion in sales in December, he said.
"This show has been the strongest in a number of years," he said. "The vibe is very good. People seem to be here ready to work, and there's a lot of new, technologically advanced product. The market is coming back."
This is the second year that the SIA show was hosted in Denver. The show moved from its original location in Las Vegas to a state that is synonymous with mountain snow sports.
"It's great being close to the mountains, and people like walking in the fresh air to get to the show," he said. "Denver's been great."
Companies, who come to the tradeshow showcasing their new products to buyers from retail stores, said they've seen renewed buying interest from stores and customers.
Mike Carey of Seirus Innovations, a glove and accessory company, said that he's seen consumers with discretionary income once again ready to spend.
"From a consumer standpoint, there's been a lot of pent up buying being withheld," he said. "Now the spending shackles have come off, and from the retail standpoint it's a freer mentality. They're not as worried that people aren't going to show up and buy the product."
Some trend highlights from the 2011 show include ski boots with a tech-compatible sole and walk mode (such as Technica's sidecountry boots, the Bushwacker and the Cochise), 3D helmet cameras, outerwear and accessories inspired by the Brooklyn hipster trends and old-school workwear and "dude purple" – plum colored outerwear for men by a number of companies.
Key To The Rockies welcomes the SIA members and consumers to stay in Keystone Colorado and enjoy snow sports on the mountain at Keystone Resort. Key To The Rockies Sales and Marketing Director Meredith Long notes, "We are seeing similar trends which indicate that folks are not willing to sacrifice another ski vacation this year. They are eager to get back on the slopes. Trips may be a bit shorter than the past, but avid skiers and riders still need to get their fix. Our spring numbers are up here in Keystone, Colorado, fueled in part by the media coverage of the amazing snow we've had so far this year."
Key To The Rockies has been booking quality ski vacations in Keystone and Arapahoe Basin, Colorado, for nearly 20 years. This locally owned and operated company offers a complete selection of short-term Keystone vacation rentals, condominiums and private homes available for rent in Keystone, Colorado. From the budget-conscious traveler to the family looking for ski-in/ski-out luxury, Key To The Rockies offers a property for every visitor. They also offer 2,000 square feet of flexible meeting space for corporate events, intimate weddings, family reunions or apres ski parties. Browse all of Key To The Rockies Keystone, Colorado, lodging options and find the best Keystone deals and discounts online at http://www.KeyToTheRockies.com or call 877.404.7396 for reservations.
# # #