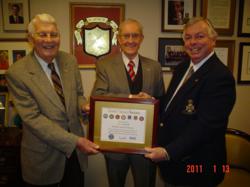 Warner Robins, GA (Vocus/PRWEB) February 07, 2011
Georgia Employer Support of the Guard and Reserve (ESGR), an agency of the Department of Defense, presented the Smith and Sons Foods, Inc. owner, Jim Smith, with the Seven Seals Award at the corporate office in Macon, Ga., last month.
The award, depicting the heraldry seals of the seven military services, is given at the discretion of the Georgia ESGR chair to recognize the efforts by a citizen, business, or organization, whose supportive actions have benefited all of the Reserve Components in a significant manner. Recipients of this award do not necessarily employ Reservists, but have demonstrated outstanding support, commitment, and extreme patriotism to the United States military.
Founded in 1936 by J.A. Smith, Jr., Smith and Sons Foods operates 10 S and S Cafeterias in Georgia offering such home-style menu items as chicken and dumplings, beef stew, and country fried steak. These family-owned restaurants, which are found in Alabama, Georgia and Tennessee, offer take-out service as well as dine-in seating for lunch and dinner.
As the 1.3 million members of the National Guard and Reserve continue to perform an increasing number of unique missions from America's borders and beyond, ESGR will continue to be one of the resources for the employers of citizen warriors. ESGR advocates relevant initiatives, recognizes outstanding support, increases awareness of applicable laws and resolves conflict between employers and service members.
More information about ESGR Employer Outreach Programs and volunteer opportunities are available at http://www.esgr.mil, or by calling 678-569-5738.
###