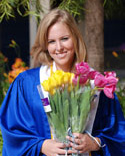 Struck with fear, I became the quiet kid in the back of the class afraid to be called on in front of my peers. School had become a maze of hopelessness and fear. RFB&D has opened countless doors for me.
Washington, DC (Vocus/PRWEB) February 07, 2011
Recording for the Blind & Dyslexic (RFB&D), the nation's leading provider of accessible educational content, today honored several outstanding students with reading disabilities at its 51st annual National Achievement Awards celebration.
In addition to receiving cash awards of $6,000, the winners and their families will participate at a media roundtable on Capitol Hill, meet with Members of Congress and public officials, and be recognized for their accomplishments at a reception held in their honor.
Since 1959, RFB&D has honored exceptional students through the privately endowed Mary P. Oenslager Scholastic Achievement Awards (SAA) for college seniors and beyond who are blind or visually impaired. In 1991, the Marion Huber Learning Through Listening Awards (LTL) were instituted for high school seniors with learning differences such as dyslexia. Hundreds of students apply each year and are selected by committees of RFB&D staff, volunteers, board members, parents, and educators. This year, the number of applicants more than doubled.
These students are recognized for their academic excellence, extraordinary leadership, and service to others. All of them have thrived on their education paths thanks in part to their extensive use of accessible educational content and assistive technology provided by RFB&D. Each award winner has a long list of honors and accomplishments, and has graduated with a GPA above 3.0, with most near the 4.0 mark. The roster of winners includes:
Marion Huber Learning Through Listening (LTL) Awards

Ryan Thomas Ansel,19, Fort Washington, PA; has Acute Dyslexia; graduated from Chestnut Hill Academy in Philadelphia, PA; attending Davidson College in North Carolina and plans to major in Biology
Liat Hoffman,18, San Diego, CA; Graduated from San Diego Jewish Academy; has Dyslexia and Reading Disorder with deficits in fluency and comprehension; attending Chapman University in California
Kyle Wittenauer,19, Richmond, VA; graduated from St. Christopher's School in Richmond; has severe Spatial Processing Deficiency, Dysgraphia, and Attention Deficit Disorder; was accepted early decision to Yale University, is now majoring in Cognitive Neuroscience and playing on the football team
Mary P. Oenslager Scholastic Achievement Awards (SAA)
Daniel Standage, 36, Tucson, AZ; Legally Blind, Bilateral optic nerve atrophy; graduated from the University of Arizona with a Bachelor of Science degree in Rehabilitation; now serving as Coordinator for the Disabled Veteran Reintegration and Education Project at the University
Sharon Burniston, 48, Maplewood, NJ; Legally Blind, Stargardt's disease (juvenile macular degeneration); graduated from Drew University with a Master of Divinity
About Recording for the Blind & Dyslexic®
Founded in 1948, RFB&D® serves more than 300,000 K-12, college and graduate students, as well as veterans and lifelong learners – all of whom are blind, visually impaired, dyslexic or have other disabilities that prohibit them from reading standard print. RFB&D's collection of more than 64,000 digital textbooks and literature titles – delivered through internet downloads and available on Macs and PCs, CD and various assistive technology devices – is the largest of its kind in the world. More than 5,500 volunteers across the U.S. help make RFB&D's content available, which students rely on to achieve educational success and entry into the workforce. RFB&D, a 501(c)3 nonprofit, is funded by grants from the U.S. Department of Education, state and local education programs, and the generous contributions of individuals, foundations and corporations. For more information, call (866) 732-3585 or visit http://www.rfbd.org.
# # #