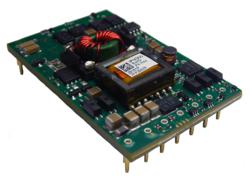 Carlsbad, CA (Vocus/PRWEB) February 09, 2011
Emerson Network Power, a business of Emerson and the global leader in enabling Business-Critical Continuity™, today launched the IPM300, a 300 W dual-input power module for AdvancedTCA® (ATCA®) boards. The IPM300 provides board designers with a rugged quarter-brick solution to implementing dual-redundant, hot-swap -48 V inputs with EMI filtering. The new module also includes ORing, inrush control and protection, and power management functionality. When combined with a variety of Emerson Network Power standard dc-dc converters, the IPM300 provides a comprehensive power solution for a wide variety of ATCA, telecom, and server and storage applications.
The Emerson Network Power IPM300 features an input voltage range of -36 V to -75 Vdc, suitable for both -48 Vdc and -60 Vdc power distribution. The module provides 3.3 Vdc and 5.0 Vdc isolated management power for housekeeping functions. In addition to providing the power management features required by PICMG® 3.0 specifications, the IPM300 has an auxiliary boost supply for charging external hold-up capacitors that is programmable from 50 Vdc to 95 Vdc. This enables designers to significantly reduce the external capacitance required to meet hold-up time in case of power feed loss, thereby saving valuable space and cost. A built-in I2C serial bus interface can be used for monitoring and reporting and features programmable alarm thresholds.
At 2.3 in x 1.45 in x 0.58 in (58.4 mm x 36.8 mm x 14.7 mm), the IPM300 features one of the smallest form factors available today. It has an estimated mean time between failures (MTBF) of more than one million hours and offers a wide ambient operating temperature range of minus 40 to plus 85 degrees Celsius, enabling reliable deployment in a variety of demanding environments. It is also fully RoHS (Restriction of Hazardous Substances) compliant per EU directive 2002/95/EC, meets basic insulation requirements, and is certified with international safety and performance standards, including EN60950-1 TUV and UL/cUL 60950-1.
Emerson Network Power's IPM300 is available now and is competitively priced at $64.77 per unit in production quantities. For additional information, visit http://www.powerconversion.com/products/websheet/437/IPM300.
A high resolution photo of the IPM300 is available at http://www.powerconversion.com/assets/1283896348-st.jpg
About Emerson Network Power
Emerson Network Power, a business of Emerson, is the global leader in enabling Business-Critical Continuity™ from grid to chip for telecommunication networks, data centers, health care and industrial facilities. Emerson Network Power provides innovative solutions and expertise in areas including AC and DC power and precision cooling systems, embedded computing and power, integrated racks and enclosures, power switching and controls, infrastructure management, and connectivity. All solutions are supported globally by local Emerson Network Power service technicians. For more information on Emerson Network Power's embedded power products and services for original equipment manufacturers and system integrators visit http://www.Emerson.com/EmbeddedPower. Learn more about Emerson Network Power products and services at http://www.EmersonNetworkPower.com.
About Emerson
Emerson, based in St. Louis, Missouri (USA), is a global leader in bringing technology and engineering together to provide innovative solutions for customers in industrial, commercial, and consumer markets through its network power, process management, industrial automation, climate technologies, and tools and storage businesses. Sales in fiscal 2010 were $21 billion. For more information, visit http://www.Emerson.com.
Business-Critical Continuity, Emerson Network Power and the Emerson Network Power logo are trademarks and service marks of Emerson Electric Co. PICMG is a registered trademark of the PCI Industrial Computer Manufacturers Group. All other product or service names are the property of their respective owners. © 2011 Emerson Electric Co.
###