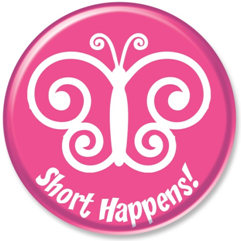 Celebrate TS Awareness Month in February and help the Turner Syndrome Society of the United States Crush Ignorance of Turner Syndrome.
(Vocus/PRWEB) February 07, 2011
During February 2011, TSSUS will launch its first Awareness Campaign: Short Happens! Call TSSUS today for your TS Awareness Month button at 1-800-365-9944.
Short stature is the number one feature of Turner syndrome (TS). Through early intervention of growth promoting therapies, girls with Turner syndrome can achieve the goal of a normal adult height (5 feet). Half of the girls are not diagnosed until they are teens or pre-teens. A late diagnosis exposes these girls to risk from undiagnosed health conditions, and eliminates or reduces health options such as growth hormone or estrogen therapy. Getting Short Girls evaluated is one the TOP objectives of the TSSUS.
TS Awareness Month is already on Facebook. Please see The Turner Syndrome Society on Facebook for more information.
Local Chapters are encouraged to hold their own Awareness Month activities. In New York City, local members are participating in a photo shoot by Rick Guiotti of Positive Exposure. "Positive Exposure (http://www.positiveexposure.org) brings its universal message — the beauty of difference — to all parts of society. Guidotti's photo and video presentation explores the social and psychological experiences of people living with genetic, physical and behavioral conditions. The presentation provides new opportunities to see individuals living with a genetic difference first and foremost as a human being with his/her challenges rather than as a specific diagnosis/disease entity.
Turner syndrome (TS) is a non-inherited chromosomal disorder that affects one in 2,000 female births. There are approximately 80,000 women and girls affected with TS in the United States with approximately 800 new cases diagnosed each year. Primary characteristics are short stature, ovarian failure, heart defects, and normal intelligence with possible learning disorders. To learn more visit http://www.turnersyndrome.org.
The TSSUS board of directors unanimously agreed on setting an ambitious goal to "Crush Ignorance of Turner Syndrome" over the next decade.
"TSSUS continually improves TS identification, outreach, and public relations efforts--now more important than ever, given current economic conditions and insurance complications related to TS," said Cindy Scurlock, TSSUS executive director.
Many people, including physicians, are not aware of Turner syndrome and as a result, the diagnosis is often missed. Early diagnosis and intervention is critical. The TSSUS annual conference raises awareness of TS and informs physicians and patients of valuable health care recommendations.
Find out more about Turner syndrome, then tell a friend, family member, business associate or health care professional and help us Crush Ignorance of Turner Syndrome! We can't do it without you.
Our Mission is to "Create awareness, promote research and provide support for all persons touched by Turner syndrome."
###