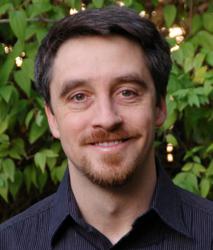 Matt Weathers, who ran the product team and strategy for PayPal Mobile, is an ideal choice to lead this effort.
Dallas, TX (Vocus/PRWEB) February 07, 2011
ShopSavvy, the personal shopping companion for smartphone users, today announced that it has brought on Matthew Weathers, former product lead for PayPal Mobile, as vice president of product. Among his responsibilities, Weathers will lead the development of ShopSavvy's mobile commerce strategy, including QuickPay, which enables ShopSavvy users to purchase the products they scan without ever leaving the application.
"IE Market Research projects that purchases made via smartphones in the United States will exceed $40 billion by 2014, and ShopSavvy intends to be a driving force in this fast-growing market," said Alexander Muse, co-founder of ShopSavvy. "Matt Weathers, who ran the product team and strategy for PayPal Mobile, is an ideal choice to lead this effort."
In January, ShopSavvy introduced QuickPay 1.0 on both the iPhone and Android smartphones. The feature enables consumers who find great deals to easily buy an item on the phone and have it shipped home. QuickPay 1.0 uses PayPal, but in the near future, the company will unveil QuickPay 2.0, which will also support credit cards. QuickPay 2.0 will also become a wallet to enable point-of-sale purchases via near field communication (NFC).
"QuickPay will allow ShopSavvy users to use the app as an integrated wallet, making purchases from both local and online retailers without needing cash or a credit card in hand." Weathers said. "I am excited about the opportunity to develop this element of ShopSavvy as we work to extend our lead as the No. 1 app for shoppers."
In QuickPay 1.0, when ShopSavvy users scan a product barcode, the application performs a product look-up and returns pricing information from local and online retailers. Participating retailers will automatically display a QuickPay button that users can click to access PayPal and complete the purchase.
Upon its release, QuickPay 2.0 will expand these payment capabilities to serve as a fully featured, integrated wallet. Not only can ShopSavvy consumers store credit cards and bank accounts in their wallet, but they can save money overall by also storing coupons, gift cards, instant rebates, loyalty cards, and cash back rewards in their QuickPay wallet. With a simple and secure PIN entry, users can quickly buy items to be sent home or purchased at a point of sale.
Weathers, who will be based in ShopSavvy's Bay Area office, was part of the founding team for PayPal Mobile. He led the mobile product team for four years and built out the product suite for three business lines: P2P payments, eBay mobile checkout, and mobile merchant services. Prior to that, Weathers worked in PayPal's merchant business on ecommerce checkout flows and some of the first large merchant integrations. Most recently, he led the product strategy for the turnaround of eBay France, which relied heavily on local commerce. He has an MBA from the University of California, Berkeley and a bachelor's degree from UCLA.
About ShopSavvy
ShopSavvy is a personal shopping companion for smartphone users. The application enables consumers to scan the UPC, EAN or QR barcodes of products they want to buy and do immediate, in-store price comparisons with local and online retailers. ShopSavvy has emerged as one of the most celebrated and widely embraced shopping apps for Android, the iPhone, Nokia and Windows smartphones, with more than 7 million active users. ShopSavvy's price comparison engine includes up-to-date pricing and inventory information on more than 20 million products. Product data comes from retailers as well as Wikipedia-style crowdsourcing from ShopSavvy users, who can add their own deals, discoveries, ratings and reviews to the database. For advertisers, ShopSavvy now offers AdOns® -- highly targeted advertising, coupons, warranty offers, and promotions at the point of highest purchase intent, when users are standing in a retail store with a potential purchase in hand. AdOns combine location- and product-specific data to deliver precise marketing content to users. For more information, visit http://shopsavvy.mobi.
# # #