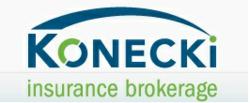 The agency's fresh marketing approach features a state-of-the-art 'Virtual Insurance Office' and custom 'Virtual Insurance Agent'...
San Diego, CA (Vocus/PRWEB) February 09, 2011
Konecki Insurance Brokerage has recently partnered with Astonish Results, LP - a digital marketing and training company which specializes in modernizing the independent insurance industry - to create an innovative new Internet marketing campaign. The agency's fresh marketing approach features a state-of-the-art "Virtual Insurance Office" and custom "Virtual Insurance Agent" which is meant to increase consumer engagement as well as provide the visitor with a more personable experience overall. The Astonish Results campaign is also intended to help Konecki Insurance Brokerage both find and keep new, prospective clients.
The agency's new website, http://www.koneckiins.com, was created to make the online insurance shopping experience, as a whole, not only easier, but much more educational and interactive. The site is divided into distinct categories, making it nearly effortless for California insurance shoppers to find exactly the type of insurance product they are looking for—and better yet, allows the visitor to take a much more proactive approach to better understanding their policy options.
Perhaps you are searching for affordable auto insurance in San Diego, a comprehensive CA home insurance plan or even a customizable California business insurance policy—well then rest assured; Konecki Insurance Brokerage has you covered! Whether you're simply shopping around or have specific questions regarding your current coverage, http://www.koneckiins.com, provides current and prospective customers with multiple ways to contact the agency. Fill out a free quote form, get social with their experts on various social media sites or even just give them a call at 1-877-609-6854. Konecki Insurance Brokerage wants to make the insurance shopping process as simple as possible—and even a bit enjoyable too! The agency is thrilled to move forward with the initiation of their restructured digital marketing strategy, and has high expectations for the ease it will bring its California consumers.
About Konecki Insurance Brokerage:
Since 1990, Konecki Insurance has developed into a full scale, client-centered insurance brokerage - dedicated to providing not only San Diego, La Jolla, Del Mar, Encinitas, Rancho, Santa Fe, but all of San Diego County and the entire State of California with the most effective insurance strategies. As one of California's most trusted independent insurance agencies, Konecki Insurance is committed to serving the varying insurance needs of California individuals, families and businesses—and works hard to provide its customers with the highest quality insurance strategies and protection they deserve.
# # #