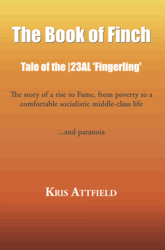 Calgary, AB (Vocus/PRWEB) February 09, 2011
Just in time for the release of Avril Lavigne's new single, "What the Hell," Kris Attfield has published what he calls a true story of his life and telepathic romance with the Canadian singer, The Book of Finch (published by AuthorHouse).
Attfield writes in The Book of Finch that while in school, he was top of his class. However, he goes on to explain that things soon changed after he received the Church of Jesus Christ of Latter-day Saints patriarchal blessing. The blessing told him he'd witness and perform miracles, and Attfield claims that he was able to predict the 9/11 disaster three months before it happened.
Attfield suffered a mental and emotional breakdown, which he attributes to the horrors he has experienced throughout his life. Recovering from his breakdown was a challenge, and his church bishop encouraged him to seek psychiatric counseling. Attfield was lost, as the church had always seemed to support belief in miracles and the paranormal.
Attfield believes that God inspired him to somehow be with his romantic interest, Avril Lavigne, and so he experimented extensively with the concept of telepathy on the singer. While he believes he is successful, the psychiatric community tried to discontinue his experimentation. Attfield says he was held in bondage, drugged, and not allowed "constitutional freedoms of thought and belief."
In the introduction of his book, Attfield writes:
If you cannot believe what you read, then regard it as a 'Fantastic Reality' and not an unremarkable rip-off of a low-rated movie.
Is he crazy? It's up to the reader to decide in The Book of Finch.
About the Author
Kris Attfield is a 26-year-old LDS priest who currently lives with his parents and brother in Calgary, Alberta. Ever since he received patriarchal blessings in 2001, he's debated with the psychiatric community over whether or not miraculous reality exists, as his patriarchal blessing said he'd witness and perform miracles.
AuthorHouse is the leading provider of self- publishing, marketing, and bookselling services for authors around the globe. For more information, visit http://www.authorhouse.com.
EDITORS: For review copies or interview requests, contact:
Marketing Services
Tel: 888-519-5121
Fax: 812-961-3133
Email: pressreleases(at)authorhouse(dot)com
(When requesting a review copy, please provide a street address.)
###