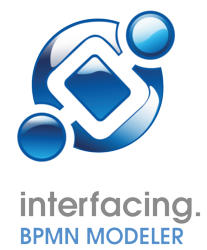 The fact that Interfacing has made it so easy to start modeling in BPMN [...] puts the power of BPM in the hands of any user, anywhere.
Montreal, Canada (Vocus/PRWEB) February 08, 2011
Interfacing Technologies is pleased to announce that their Free BPMN Modeler now supports Visio 2010. The free process mapping tool has been downloaded more than 50,000 times, and is available online. Many organizations use MS Visio's drawing capabilities to map their processes; Interfacing's Free BPMN Modeler provides the missing functionality to allow migration from small-scale process flowcharts to the multi-dimensional organizational models required for transitioning to a company-wide process management program. The BPMN Modeler's Import Wizard accelerates this transition by allowing users to import and convert their existing Visio-based processes to BPMN (Business Process Modeling Notation).
The process mapping software had considerable support from the outset: "Interfacing's BPMN Modeler is sure to be well received by the Visio user community. Process management should be on every organization's agenda, and this plug-in gives business users the ability to create sophisticated business models with the ease-of-use that Visio is famous for," said Hisashi Sato, Senior Product Manager at Microsoft Corporation. "The BPMN modeler allowed me to create connections between flowcharts and build a multi-leveled process framework in minutes."
BPMN is the most widely accepted business process documentation methodology in the world. Developed by the Object Management Group (OMG®), the use of BPMN ensures that the process models designed in the free modeler are transferable across IT frameworks, users, and locations.
"We developed BPMN to provide a standard to depict the entire end-to-end process flow, coordinating processes, resources, services, and the integration of data between activities," says Richard Mark Soley, Ph.D., Chairman and CEO of OMG. "The fact that Interfacing has made it so easy to start modeling in BPMN with process hierarchies and resource allocation puts the power of business process management in the hands of any user, anywhere."
Based on the framework of Interfacing's award-winning Visio plug-in FirstSTEP® Charter, the Free BPMN Modeler manages process knowledge as "Objects" rather than as flat text, allowing users to augment the information attributed to processes, drill-down through multiple process hierarchy levels, and automatically generate Swimlane views."Business users are already accustomed to the Visio interface," says Meir Levi, Interfacing CEO. "They like the ability to turn their process maps into detailed models that can help them understand the relationships between their processes, people, and IT infrastructure. The BPMN Modeler represents the first step towards achieving process maturity; our clients can complete this transition with our process lifecycle and GRC management suite, the Enterprise Process Center®."
About Interfacing Technologies
Interfacing Technologies Corporation is a leading provider of lifecycle Business Process Management Software(BPMS) and Governance, Risk & Compliance (GRC) solutions. Interfacing's software and consulting services span the entire maturity model: from process modeling in their Free BPMN Modeler for MS Visio®, to collaboration, automation, monitoring, and governance within the business architecture software -- Interfacing's Enterprise Process Center® (EPC). Interfacing's solutions focus on bridging the gap between operations, audit, and IT by simplifying the management of knowledge which, in turn, creates a sustainable process improvement and governance culture across the organization.
Download the new version of Interfacing's Free BPMN Modeler for MS Visio® today, or contact us for more information.
# # #