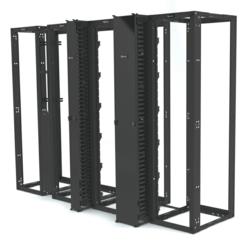 Watertown, CT (Vocus/PRWEB) February 07, 2011
Siemon today introduced its VersaPOD™adjustable-depth, 4-post rack system that integrates with the same innovative high density Zero-U vertical patching and cable management solutions as offered with Siemon's popular VersaPOD Data Center Cabinet. The VersaPOD 4-post rack provides a quickly assembled, stable platform for mounting extended depth active equipment and efficiently managing high-density cabling in both data centers and telecommunications rooms.
The VersaPOD 4-post rack's headers, 45U vertical rails and depth adjustment brackets all feature symmetrical designs to eliminate orientation errors during assembly. This design also self-squares the rack, saving valuable installation time - VersaPOD 4-post rack can be field assembled in less than 20 minutes.
The VersaPOD 4-post rack is compatible with Siemon's Zero U vertical patch panels (VPP) for support of copper and fiber patching providing up to 24U of Zero-U vertical patching space between each set of bayed racks or 16U along both sides of a single rack.
Siemon's Zero-U and existing VPC and RS-CNL vertical cable management channels also integrate with VersaPOD 4-post rack. Mounted between multiple racks or alongside standalone racks, these user-friendly vertical cable management options provide a high capacity, easily accessible and concealable cable pathway solution also referred to as cable highways or zones. By moving cabling out of congested equipment mounting areas and into dedicated cabling zones, airflow is improved for more efficient thermal management.
Siemon's new 4-post rack system delivers unique benefits in the Data Center and the telecommunications room alike. By utilizing it's Zero-U patching and cable management capabilities, more equipment mounting spaces are created without the need for additional racks. For example, baying two racks together, creates an additional 40U of combined mounting spaces, nearly equivalent to adding another rack without the additional cost or real estate. This ability to support higher density infrastructures and reduce the number of racks required also translates into future scalability.
The 7 ft (2.1m) x 22 in (560mm) wide rack features 45U of standard 19 inch (480mm) mounting spaces and is depth-adjustable from 22-36 inches (560-915mm) in 1 inch (25mm) increments to accommodate a wide range of equipment sizes. The VersaPOD 4-post rack's all-steel construction utilizes inward-facing header and footer bars to minimize floorspace consumption while maintaining full load capabilities and offers 8 ground post locations for simple, secure installation.
For more information on Siemon's VersaPOD 4-post rack, as well as other Siemon network cabling and connectivity innovations,visit http://www.siemon.com
Follow Siemon on Twitter: http://twitter.com/siemoncabling/
Join Siemon on Facebook: http://www.siemon.com/go/facebook
About Siemon
Established in 1903, Siemon is an industry leader specializing in the manufacture and innovation of high quality, high-performance network cabling solutions. Headquartered in Connecticut, USA, with global offices, manufacturing and service partners throughout the world, Siemon offers the most comprehensive suite of copper (unshielded and shielded twisted-pair) category 5e, category 6 (Class E), category 6A (Class EA) and category 7/7A (Class F/FA), and multimode and singlemode optical fiber cabling systems available. With over 400 patents specific to structured cabling, from patch cords to patch panels, Siemon Labs invests heavily in R&D and development of industry standards, underlining the company's long-term commitment to its customers and the industry.
###