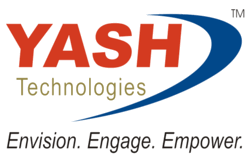 East Moline, IL (Vocus/PRWEB) February 08, 2011
Leading technology services and outsourcing partner for global companies, YASH Technologies, today announced the opening of a regional sales office in Walldorf, Germany, as part of its European strategy to expand into new markets. The office is located at Altrottstr. 31, 69190 Walldorf, Germany.
The new office provides numerous benefits to global enterprise clients with offices in Germany, including enhanced local service, direct access to local personnel and expanded regional access to services. The regional office will accommodate YASH's growing customer base in Germany as well as neighboring countries. YASH's existing London office will continue to support customers in the UK.
"YASH's portfolio of offerings in support of SAP® applications -- including SAP Business All-in-One solutions, strategic outsourcing and application management services -- is our go-to-market focus for this region," said Amit Bhutra, director, European sales for YASH Technologies. "We're excited about this expansion and extending our service capabilities to customers, as well as growing our relationships with partners."
For more information please visit http://www.yash.com or email info(at)yash(dot)com.
About YASH Technologies
YASH Technologies focuses on customer success. As a leading technology services and outsourcing partner for medium and large global customers, we leverage technology and our flexible delivery models to drive performance and business value throughout a customer's enterprise. YASH's comprehensive service approach incorporates a holistic view of our customers that extends beyond delivery. This approach integrates enterprise solutions and services, proprietary best practice offerings, strategic application and maintenance outsourcing, as well as consulting and integration services. YASH is a SEI CMMI (Level 3) and an ISO 9001:2008 certified company with U.S. and India headquarters and regional sales and development offices spread across three continents. YASH is also part of a select group of companies that are SAP-certified global providers of application management services. For more information, please visit http://www.yash.com or email info(at)yash(dot)com.
SAP and all SAP logos are trademarks or registered trademarks of SAP AG in Germany and in several other countries.
All other product and service names mentioned are the trademarks of their respective companies.
# # #