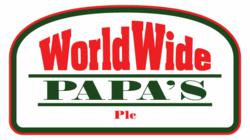 We believe history is repeating itself, not only in the economic market but in the public sector as well, and we're at the forefront of the progression in the marketplace.
Denver, CO (Vocus/PRWEB) February 08, 2011
WorldWide Papa's, Plc., the exclusive area developer of Papa John's restaurants in St. Petersburg and the Leningrad region of Russia, announces the listing of WorldWide Papa's on the Deutsche Böerse - Frankfurt Open Market. The Company will be listed under the stock symbol "1PJ.F" on the Frankfurt Stock Exchange (FSE) and will be introduced as a public company with the ringing of the bell to begin open trading on Feb. 14, 2011.
"This public listing is taking place under the most ideal conditions in our view: explosive economic growth and rich opportunity for continued success in St. Petersburg, a solid and quality-focused operations and management team on the ground in Russia, and continued consumer embrace of the Papa John's brand and product," said Darrin Stock, CEO and Founder of WorldWide Papa's, Plc. "We believe history is repeating itself, not only in the economic market but in the public sector as well, and we're at the forefront of the progression in the marketplace."
The primary motivation in WorldWide Papa's, Plc listing on the FSE is to introduce the Company to new investors and raise additional capital to fuel expansion in St. Petersburg. The Company has the near-term goal of growing the number of restaurants from four to 40 locations in the St. Petersburg and Leningrad region.
"We congratulate WorldWide Papa's on its stock market listing," said Tom Sterrett, Senior Vice President of Papa John's International division. "As we grow our brand throughout the world, we have identified Russia as a priority market that we believe has the opportunity for significant growth. The first four restaurants opened by Worldwide Papa's have produced some of the highest sales averages among our international markets. We look forward to their continued growth in the Papa John's system."
Papa John's, International, the franchisor supporting WorldWide Papa's, began in the United States with its first restaurant opening in 1984 in Jeffersonville, Ind. In its 27 years in operations, the Papa John's brand has grown to nearly 3,600 locations throughout the world. WorldWide Papa's intends to repeat this history in Russia with its expansion from four to 40 franchised Papa John's locations, accelerated by the public listing on the FSE.
About WorldWide Papa's
WorldWide Papa's, Inc. is an international management company, formed in 2004, with exclusive area development rights to Papa John's restaurants in St. Petersburg, Russia and the Leningrad region. Founded by Darrin Stock and Gary Hamilton, WorldWide Papa's opened its first Papa John's restaurant in St. Petersburg in 2005. The company currently operates four restaurants in the region, with plans in place for the expansion of reaching a total of 40 restaurants by 2014. Papa John's restaurants in St. Petersburg were recognized in May 2010 as the winning establishment in a local pizza taste-test competition, named as having the best pizza against two leading competitors in the market. For more information about WorldWide Papa's visit StPetePapaJohns.com.
About Papa John's, International
Known for its "Better Ingredients. Better Pizza." tag line, Papa John's is the world's third largest pizza company, with more than 3,600 restaurants operating in 32 countries throughout the world. For 10 of the past 11 years, consumers have rated Papa John's No. 1 in customer satisfaction among all national pizza chains in the American Customer Satisfaction Index (ACSI).
Disclaimer
This press release contains forward-looking statements based on beliefs of WorldWide Papa's Plc management. When used in this press release, words such as "anticipate", "believe", "estimate", "expect", "intend", "plan" and "project" are intended to identify forward-looking statements. Such statements reflect the views of WorldWide Papa's as of the date made with respect to future events and are subject to risks and uncertainties. Many factors could cause actual results to be materially different from those projected here, including, among others, changes in general economic and business conditions, changes in currency exchange rates and interest rates, introduction of competing products, lack of acceptance of new products or services and changes in business strategy. WorldWide Papa's disclaims any intention or obligation to update these forward-looking statements.
For Information Contact:
WorldWide Papa's, Inc.
PO Box 1857
Denver, Colorado USA 80201
Questions(at)stpetepapajohns(dot)com
http://www.StPetePapajohns.com
Gary Hamilton
ghamilton(at)stpetepapajohns(dot)com
###