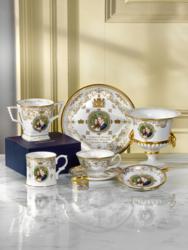 Royal Worcester is a very famous name in the British ceramic industry, and its collectible pieces can fetch a very high value.
Northampton, England (Vocus/PRWEB) February 08, 2011
Stephen Church's family has been in the business of retailing Royal Commemoratives for 152 years, but the managing director of Church's China notes that a handful of Britain's fine china makers have been in the business of making Royal Wedding Memorabilia much longer. One of these companies is Royal Worcester, a maker of fine porcelain since 1751.
Church notes, "Royal Worcester is a very famous name in the British ceramic industry, and its collectible pieces can fetch a very high value. I know of a pair of cabinet vases by renowned Royal Worcester artist Harry Stinton, circa 1931, that sold at auction in 2007 for 24,500 pounds in 2007." That's more than $39,400 at the current exchange rate.
Will the line of china Royal Worcester has designed for the wedding of Prince William and Kate Middleton reap a high return for collectors? Church says only time will tell. The Will-Kate Royal Wedding line consists of eight hand-decorated pieces finished in 22-carat gold. They range from a limited edition Royal Wedding Lion Head Vase priced at $523.38 to a Royal Wedding mug priced at $19.81. The full line is available at http://www.theukgiftcompany.com, the online sales division of Church's China.
"The Royal Worcester collection has been tremendously popular," says Church. "There's no doubt its fascinating history and its reputation for quality craftsmanship have contributed to the high demand. Another factor is the breadth of pieces available. No other brand has come up with such a broad selection."
Prior to the founding of Royal Worcester, fine porcelain was manufactured exclusively in the Far East. In the mid-1700s, physician John Wall and apothecary William Davis began experimenting with their own porcelain recipe. Ultimately achieving success, they joined forces with 13 other local businessmen to open the first Royal Worcester porcelain factory in Worcester, England.
The company earned a reputation for producing extremely high quality china and soon became a porcelain maker of choice for England's upper class and the Royal Family. It is a reputation that has been maintained for more than three centuries. The company celebrated its 250th Anniversary in 2001 which fittingly included a visit from Queen Elizabeth II and the Duke of Edinburgh.
In 2009, Royal Worcester was acquired by Portmeirion Pottery. Royal Worcester fine porcelain is now made by William Edwards an independent factory in Stoke-on-Trent, the heart of the English ceramic industry. Its Worcester factory has been converted into a visitor center and the Worcester Porcelain Museum, home to the world's largest collection of Worcester porcelain dating back to 1751.
Church concludes, "Though Royal Worcester now falls under the Portmeirion Group umbrella, the processes used to create its pieces, including hand-painting each item, remain the same. A Will and Kate Royal Worcester piece is a fine addition to any Royal Wedding memorabilia collection."
Church's China, established in 1858, sells a wide range of china and other collectibles. Specializing in royal commemorative memorabilia, the company has locations in Northampton and Market Harborough, England as well as an online division, The U.K. Gift Company. For more information, visit http://www.theukgiftcompany.com.
Media Note: If you would like to arrange for a telephone interview with Stephen Church, please contact Nancy Marshall at nmarshall@marshallpr.com or Jennifer Boes at jboes@marshallpr.com. Mr. Church will also be available for live interviews in New York City at some point in March 2011. If you are interested, please follow up with Nancy or Jennifer at the emails above.
Editor's Note: Click on the link below in order to access a downloadable version of photo.
http://www.marshallpr.com/apc/photos/releases_884_1_o.jpg
###