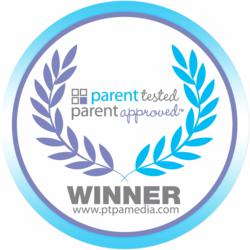 "Seeing the PTPA Winner's Seal on a product package or website helps parents identify products that have been tested and recommended by other parents. It's like shopping with your best friend
Toronto, Ontario (Vocus/PRWEB) February 08, 2011
A fun and educational way to get children introduced to yoga; A newly designed backpack that makes travel easier and entertaining; An eco-themed playmat for tummy time and a natural anti inflammatory nursing buddy for nursing moms; These are just some of the submissions from Stafford House, Myrna J Games The Boppy Company and TheraPearl who have recently been awarded the PTPA Seal of Approval.
PTPA Media is North America's largest parent tester community – a credible third party resource for parents with over 40,000 volunteer parent testers.
"Seeing the PTPA Winner's Seal on a product package or website helps parents identify products that have been tested and recommended by other parents. It's like shopping with your best friend," says PTPA Founder and CEO, Sharon Vinderine.
Since 2008, PTPA has evaluated thousands of products and services from leading manufacturers and emerging brands. Because independent parents evaluate these products in their own homes, PTPA winners are chosen based on merit and consumer experience – not on commercial considerations.
PTPA Media has become a recognized source by the media for credible and reliable recommendations for the audience. PTPA Founder Sharon Vinderine has presented PTPA winners on over 40 morning shows including the Rachael Ray Show, Fox and Friends and Canada AM.
Here are just a few of the innovative new products to receive the PTPA Winner's Seal of Approval for Winter 2011:
Boom Boom! Cards – Family Edition – It may look like its only a deck of cards, but it helps inspire kindness, compassion and a sense of community within your family. Inspire every member of your family with 26 acts of kindness then pass on the revolution!
Mrs. Pinkelmeyer Makes You Happy CD– Listen to cheerful and whimsical songs and get up and strut your stuff to the Pinkelmeyer Dance. You can also purchase a plush version Mrs. P and her adorable dog to snuggle with while you read.
IronKids Calcium Gummies – With added vitamin D, these specially formulated vitamins will help your little one grow up strong and healthy. Unflavoured, they contain no sugar coating, are lactose-free, and contain no artificial sweeteners, flavours, or colours.
Before They Know It All… - This book was designed to help you guide your teen or tween towards healthy relationships and sexuality in light of today's social culture.
Sound+Sleep – Here's an alternative solution to falling asleep and staying asleep, naturally. This innovative sleep aid aims to help you relax and replenish your mind as you work on stabilizing your sleeping patterns.
For a complete list of award winners, visit the newly updated website
About PTPA Media Inc.
PTPA Media provides an objective framework for appraising and promoting new products designed to enrich family living. The company's mission is to marry innovative companies with discerning consumers, to improve consumer access to quality products and services for their families and homes.
###