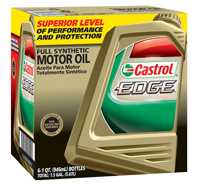 "Position automotive aftermarket companies and OEM's with direct access to key decision makers within targeted peer groups."
St. Louis, MO (Vocus/PRWEB) February 16, 2011
Shine Box Media, the automotive aftermarket and OEM direct connection to the auto enthusiast announces that Castrol, the technology leader in motor oil, has entered into an exclusive yearlong marketing and activation program with the My Shine Box car club network.
The program features Castrol EDGE as part of an exclusive interactive program targeted to car club presidents across North America that have chosen to be members of the My Shine Box network.
Changing your oil is only half the job, so Shine Box Media welcomes WIX Filters, dedicated to producing the best performing and most reliable filters in the world, to its family of marketing partners. WIX has added a premium oil filter to this exclusive package.
The Castrol/WIX offer is the latest in a series of successful marketing initiatives designed for grassroots level marketing conceived and activated by Shine Box Media for its My Shine Box network.
"We are thrilled to be working with Shine Box Media," said Bruce Firkins, Castrol North America Sales and Marketing. "We expect their skill in combining word-of-mouth advertising with direct feedback from enthusiasts will boost awareness and drive sales of the Castrol EDGE brand."
In the three years since it was introduced, Shine Box Media has redefined the way in which the automotive aftermarket industry communicates with the American automotive enthusiast.
"The idea behind My Shine Box is simple," said Mark McCracken, President of Shine Box Media. "Position automotive aftermarket companies and OEM's with direct access to key decision makers within targeted peer groups. We've been able to successfully demonstrate the leadership role that car club presidents play in achieving that objective."
As part of the activation portion of the Castrol EDGE program there will be a series of exclusive interactive webinars produced by Shine Box Media featuring the key formulation experts from Castrol, prominent figures from the world of motorsports and testimonials from club presidents who have made the switch to Castrol EDGE.
The Castrol EDGE and WIX Filter event launches a 2011 calendar full of opportunities scheduled to be unveiled to the members of the My Shine Box network.
About Shine Box Media:
Based in St. Louis, MO, Shine Box Media™ is an alliance of veteran advertising, event and sales promotion professionals offering integrated trade and consumer marketing solutions specializing in the automotive and automotive aftermarket industries. The company's myshinebox.com provides clients with exclusive access to one-of-a-kind grassroots interaction and e-commerce synergies with North America's extensive network of automotive enthusiasts. Clients include Castrol USA, Ford Motor Company, Fatheadz Sunglasses, Michelin USA, Cooper Tire and Black Magic Car Care Products among others.
About Castrol
Castrol has been a leading marketer of premium lubricants for over one hundred years. Our customers include independent lube operators, service providers, new car dealers and leading retailers. Our brands include Castrol® EDGE a performance motor oil; Castrol® GTX® — a motor oil that stands for protection; Castrol® GTX® High–Mileage™ — designed for vehicles with over 75,000 miles; Castrol ® SYNTEC® — a full–synthetic motor oil; as well as our range of commercial transport lubricants. For information visit: http://www.castroledgeusa.com
About WIX
Since 1939, Wix® Filters has been an innovator in filtration products. WIX designs, manufactures and distributes products for automotive, diesel, agricultural, industrial and specialty filter markets. Its product line includes oil, air, cabin interior, fuel, coolant, transmission and hydraulic filters for automobiles, trucks and off-road equipment. For more information, visit http://www.wixfilters.com.
###