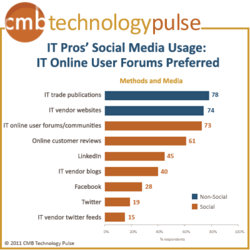 IT marketers who understand their target audience and the kind of information IT professionals are actually looking for have the opportunity to really tailor and target their social media strategy for the biggest impact
(Vocus/PRWEB) February 08, 2011
A new study from Chadwick Martin Bailey, a Boston-based custom market research firm, shows IT trade publications, IT vendor web sites, and specialized IT online user forums/communities are the top information resources IT professionals use when looking for work related information. For IT Pros, broader social media platforms such as Twitter, Facebook and LinkedIn are currently much less commonly used for discovering new products or brands, purchase evaluation or post-sales support within the technology space. The B2B study of 150 U.S. IT professionals found that three quarters of IT Pros still turn to "non-social" sources like IT trade publications and/or IT vendor web sites. However, when it comes to using "social" media as a source of information, 73% go to online communities and IT online forums. Sites like LinkedIn (45%), Facebook (28%) and Twitter (19%) ranked lower on the list of information resources IT professionals turn to.
"There is definitely a place for ongoing, focused social media outreach efforts by B2B IT tech organizations catering to IT professionals," says Chris Neal, Vice President of Chadwick Martin Bailey's Technology and Telecom Practice. "It doesn't always conform to the standard consumer social media engagement playbook, however. IT marketers who understand their target audience and the kind of information IT professionals are actually looking for have the opportunity to really tailor and target their social media strategy for the biggest impact. Being strategic and deliberate about where to invest precious staff time will help IT marketers gain buy-in from others throughout their organization who they are pressing to become more involved."
The study also showed that specialized online IT communities are the most used and most trusted "social" forum for the exchange of product recommendations and trouble-shooting advice among IT Pros. But many key conversations among IT Pros who know each other happen through "non-social" (i.e., private one-to-one) communications (e.g., corporate email, web email, phone calls, face-to-face conversations, meetings at in-person trade shows, etc.).
Additionally, the study found that when IT Pros are using "social" media, they are much more likely to be active participants than the general consumer online population that skews more towards "lurkers." For example, of the 73% of IT professionals who use online user forums/communities as an information resource, 60% also actively participate in or contribute to these types of sites. For those that look at online reviews (61%), 40% of those people also participate by posting reviews online.
About the Research
This study of 150 U.S. IT professionals was conducted in December of 2010 as part of the CMB B2B Tech Pulse series. The Tech Pulse is a self-funded quarterly study that covers a variety of current topics and issues facing IT decision makers. Additional findings can be found in a free report called: B2B Social Media Trends for IT Marketers
About Chadwick Martin Bailey
Chadwick Martin Bailey is a Boston-based custom market research firm who works with many of the most successful companies and best known brands in the world to help them acquire, maintain and grow their customer base. In 2009 CMB was listed on the Honomichl Top 50 and continues to demonstrate thought leadership at numerous conferences worldwide. Chadwick Martin Bailey focuses on using leading-edge research techniques to collect and translate the data into simple, business decision-focused deliverables. http://www.cmbinfo.com
###