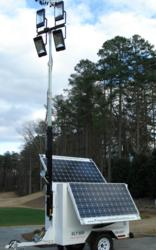 "There is a lot of excitement about the latest advances to the SLT600-Standard unit and about the new products for higher volume applications. Clients can now enjoy practical, cost-effective, solar outdoor lighting"
Apex, NC (Vocus/PRWEB) February 08, 2011
Progress Solar Solutions™, LLC is now offering a new and improved Progress Solar(TM) Light Tower. Improvements include new MPPT controllers to increase or "boost" its solar power generation and new automated clock timers to enable users to control the specific times the lights turn on and off automatically. This eliminates the need for operators to go out daily to manually turn lights on and off or to refuel or maintain diesel engines. Progress Solar Light Tower resembles a traditional portable diesel light tower but is powered 100% by free renewable energy instead of diesel fuel.
The Progress Solar(TM) Light Tower (SLT600-Standard) is made in the U.S. and operates without diesel fuel, gas or the electric grid eliminating the use of fossil fuels or generation of greenhouse gas emissions. The SLT600-Standard is one of a range of Solar Light Towers (patents pending) each optimally designed for specific lighting applications and for different volume needs. New features include MPPT controllers to maximize solar gain and automated clock timers to turn lights on and off as needed.
Product Configurations
a) SLT600-S (Standard) - for Moderate Volume Needs
b) SLT600-HVR - for Higher Volume/Rental Applications
c) SLT800-HVR - for Highest Volume Utilization Needs
The Solar Light Tower is a rugged, mobile light system that provides high-intensity, bright white lighting on-demand, where and when you need it. It is equipped with high quality Solar Power Generation Modules housed on automated solar wings that are positioned toward the sun to capture its energy; four (4) solid-state LED flood lights with high lumen output; and a no maintenance, long-life Solar Power Storage Module to store energy for use when needed at night or during in-climate weather. The light tower is fully adjustable from 12-30ft in height, able to tilt up/down and can rotate 360 degrees. The solid-state LED flood lights provide a tremendous amount of light with very little power required; instant-on/off with no flickering; extremely reliable, vibration and shatter resistant; and designed to provide up to 5x longer run time between bulb changes than metal halide lights. The Solar/Light Control Module is now equipped with the new MPPT (maximum power point tracking) controllers which maximizes or "boosts" the solar gain from the Solar Power Modules and protects the system from over/under charging. In addition, the 4 bright energy-efficient LED floodlights can be controlled with new automated clock timers that allow the operator to set specific, user-programmable, time intervals to automatically or manually turn the lights on/off on-demand. The system is on a mobile trailer for maximum functionality and convenience that can be easily towed to its destination.
About Progress Solar Solutions(TM), LLC
Progress Solar Solutions, LLC is a privately held company located in Apex, NC that provides high-performance, eco-friendly and cost-effective solar and lighting solutions for commercial, industrial, government and institutional applications. Progress Solar™ Light Towers are available for acquisition through a nationwide dealer network and for rent through national rental companies. Call for the location nearest you or for help in deciding which model is the best fit for your needs.For more information on Progress Solar Solutions, LLC or the Solar Light Tower (SLT600-Standard), call (888) 298-6657, x405 or visit http://www.progresssolarsolutions.com.
###