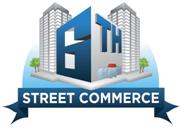 "We wanted to help retailers leverage their sales and marketing talent with a powerful and flexible system that can automate the entire E-commerce ecosystem"
Baltimore, Maryland (Vocus/PRWEB) February 08, 2011
6th Street Commerce (http://www.6thStreetCommerce.com), an innovative E-commerce solutions provider to the retail industry, today announced the launch of SalesWarp™ 2.0, an
E-commerce software platform that provides online retailers with a fully automated online sales system.
A key element of SalesWarp™ 2.0 is the support of the Magento eCommerce solution that provides retailers with a modern, flexible and effective online shopping store. This combination of products allows 6th Street Commerce to offer a complete end-to-end E-commerce solution that integrates a retailer's online storefront with their entire E-commerce supply chain – including warehouse, inventory, shipping, ordering and CRM systems. This provides tremendous value to online retailers as it helps:

Reach more customers by easily managing one or more online webstores; including managing their Magento, OsCommerce, Amazon and Ebay webstores.
Increase online sales by making it easy to list and expand product offering.
Improve customer service through integrated systems that lead to improved loyalty and retention.
Minimize product, pricing and order errors.
Reduce overhead costs and improve operational efficiency.
Consolidate analytics and reporting in one centralized location.
"We are very excited to have our product supported by the SalesWarp platform", says Scott Dahlgren, Senior Director of Worldwide Channels at Magento. "Many of our customers are looking for broader, end-to-end E-commerce solutions so the integration of SalesWarp with Magento Enterprise is particularly interesting to us and one of the reasons why we partner with companies like 6th Street Commerce."
SalesWarp™ 2.0, with full Magento support, places a strong emphasis on providing retailers with a solution that they can tailor to their current system. By offering three levels of SalesWarp – Lite, Pro and Enterprise – retailers can select the option and features that's right for their business. "We wanted to help retailers leverage their sales and marketing talent with a powerful and flexible system that can automate the entire E-commerce ecosystem", says David Potts, CEO & Founder of 6th Street Commerce. "This allows our clients to focus more of their capital on brand building and revenue growth tasks".
Many new features were added to SalesWarp™ 2.0, including enhanced sales and marketing tools, an integrated multi-store manager, consolidated reporting and a cross-sell toolkit. All of these features are intended to help retailers sell more products while spending less time and money managing the system. "This release of SalesWarp puts us at the E-commerce forefront as a price competitive and feature-rich option for any serious online retailer", continues David Potts.
6th Street Commerce recently earned Magento Professional Partner distinction, a recognition given to experienced and successful providers of ecommerce solutions that add value to the Magento product, and effectively deliver Magento based solutions.
While their core competence is supply chain and storefront implementation targeted to online retailers, 6th Street Commerce also works with Web Development Firms, Advertising Agencies and other System Integrators to help them create complete E-commerce solutions for their clients.
6th Street will be promoting SalesWarp 2.0 with Magento support at Magento's Imagine eCommerce Worldwide Conference February 7-9, 2011.
About 6th Street Inc. (http://www.6thStreetCommerce.com )
6th Street Commerce, a division of 6th Street Inc., provides end-to-end E-Commerce solutions to retailers looking to capture a larger share of the exploding online retail market. By bringing their clients new revenue opportunities along with superior products at a competitive price, 6thStreet Commerce ensures their clients dramatically increase sales, reduce operating costs and improve efficiencies in all their online operations.
About Magento (http://www.MagentoCommerce.com )
Magento is the fastest growing eCommerce platform with over 180 solution providers and 60,000 merchants and brands worldwide, enabling over $25B in transactions each year. Magento is a feature-rich, professional Open Source eCommerce platform solution that offers merchants complete flexibility and control over the presentation, content, and functionality of their online channel. Based in Los Angeles, Magento is a fast-paced, entrepreneurial organization dedicated to the mission of enabling the eCommerce ecosystem.
# # #