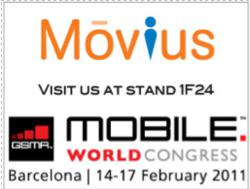 Our application provides the ability to have separate billing and voicemail for each number, as well as voice and SMS communications
Atlanta, GA and Barcelona, Spain (Vocus/PRWEB) February 14, 2011
Movius Interactive Corporation – a global leader in unified communications solutions – today unveiled the latest version of Side-LineTM Service, its innovative solution which allows operators to significantly increase ARPU and reduce churn by offering multiple lines on a single device without needing an additional SIM.
With the latest release, Side-Line Service not only supports separate voice calls but also separate SMS messages. Now a subscriber can have one line for all their business calls and related messaging and another for their personal calls and associated voice and text messages, all on one phone with any SIM.
The demand for this solution is growing as carriers on multiple continents have begun trialing or rolling out this service including the previously announced multi-country initiative by Telefonica. The adoption of Side-Line Service follows major market research across the United States by leading research firm Frost and Sullivan, which showed that nearly a third of mobile phone users were interested in second line capability and for those already owning two devices the interest level rocketed to more than 60%.
"There is a really strong momentum building from people who not only want to carry just a single device with them but want to be able to control different facets of their lives – for example keeping business and home life apart," said Movius President and CEO Dominic Gomez.
"Our application provides the most complete second line service including the ability to have separate billing and voicemail for each number as well as supporting both voice and SMS communications. All of which can be deployed on any mobile device."
Demand and interest in Side-Line Service has largely been fueled because, while the mobile phone has made connecting to individuals much simpler, it has created new issues for all types of users. These problems include:
Business User: With just one mobile, it is difficult to "turn off" personal calls when at work – or vice versa. Also it is virtually impossible to segment business and personal calls expenses.
Entrepreneur: A small multi-business person cannot differentiate calls for each business or prioritize them based on customer type. With multi-line capability entrepreneurs can manage all their requirements much more easily.
Personal: Again, there is no opportunity to segment calls or to identify a type of call coming in or prioritize, for example, one's own children or family.
The new version of Side-Line Service is being demonstrated for the first time at the Movius stand at Mobile World Congress, in Hall 1(F24).
About Movius
Movius Interactive Corporation is a recognized leader in Value Added Services (VAS) for telecommunication providers around the world. Our solutions for converged messaging, unified conferencing, virtual telephony and notification services enable carriers in established and emerging markets to increase ARPU and market share. By continually innovating new communication services, Movius transforms the way the world interacts with information, media and each other. For more information, please visit http://www.moviuscorp.com
# # #